FRANKFURT (AFP) – Global staff at Germany's largest bank, Deutsche Bank, will share the burden of a 50 percent British tax on bonuses, chairman Josef Ackermann was quoted as saying in a press report Friday.
"We will clearly globalise it," Ackermann told the Financial Times. "If parts (of the cost of the tax) are paid out of the bonus pool, we would seek to globalise it. It would be unfair to treat the UK bankers differently."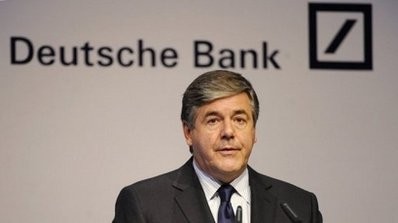 Deutsche Bank CEO Josef Ackermann said the bank will spread the pain of Britain's tax on bankers' bonuses among its staff worldwide, becoming the first financial group to detail how it will deal with the hit (AFP file)
Ackermann's comments were the first reaction by a bank to the British tax and risk angering workers outside London, the newspaper said.
The British government has slapped the 50-percent tax rate on bank employee bonuses above 25,000 pounds (28,000 euros, 40,400 dollars) to recoup cash spent rescuing the financial sector.
Finance minister Alistair Darling said the one-off levy would be spent on helping the unemployed, while the banking industry said the plan would push bankers to find work abroad.
Excessive risk-taking by banks -- which have been rescued by governments on several continents in a series of costly bailouts -- has been blamed for fuelling the global financial crisis and sparking a global recession.
But Ackermann said he opposed government interference in the amount of pay workers received.
"Bonuses should be the result of supply and demand for skilled people," he said.
But the the banking chief also acknowledged that Deutsche Bank would keep an eye on what the competition does in reaction to the British tax.
"We will monitor what banks are doing, how much of the cost will be borne by staff and how much will be taken by shareholders," he said.