A major rift surfaced at UN climate talks between emerging giants and countries most exposed to the ravages of global warming as top polluter China took aim at rich nations for failing to act.
Tensions over climate targets emerged on the third day of the landmark negotiations in Copenhagen on Wednesday despite efforts to restore calm after an early draft text proposed by Denmark infuriated developing nations.
China accused developed nations of failing to live up to promises to cut carbon emissions and give financial support to poorer countries to cope with the effects of global warming.
But the United States -- the world's biggest economy and second-largest emitter of greenhouse gases after China -- dismissed the criticism and hailed a "seismic" policy shift by President Barack Obama. Related article: China envoy criticises rich nations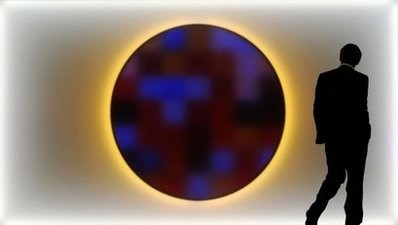 A delegate walks past a light installation following the third day of the UN climate conference in Copenhagen on December 9.
The tiny Pacific island nation of Tuvalu, which fears being inundated by rising seas, drove a wedge among developing nations by calling for discussions on a "legally binding amendment" to the 1997 Kyoto Protocol.
Its plan would set targets for reductions in greenhouse-gas emissions for major emerging economies starting in 2013.
But the move -- backed by dozens of the poorest countries most vulnerable to climate change -- was blocked by China, India, Saudi Arabia and other large developing countries.
Small island states and mainly African countries have rejected the widely held goal of keeping global temperatures from rising more than 2.0 degrees Celsius (3.6 degrees Fahrenheit).
They say only a cap of 1.5 C (2.7 F) compared to pre-industrial times would give their vulnerable nations a chance of averting devastating flooding or crippling drought.
"The constraints would mostly remain on developed countries but also, partly, on big developing economies as well," Taukiei Kitara, head of Tuvalu's delegation, told AFP.
The row exposed a rare faultline in the G77 bloc of developing nations, which hitherto has insisted that rich countries caused global warming and so should shoulder the burden of fixing it.
Further talks would be needed in 2010 to fill in the details of the outline pact to succeed Kyoto, which mandated emissions cuts by industrialised economies but left action by developing countries voluntary. Related article: Sweden announces climate aid to poor countries
Countries such as Tuvalu are worried that such an approach in future will not rein in a dangerous surge of emissions from the fast-growing economies of China, India and Brazil.
China's envoy Yu Qingtai went on the offensive against what he said was a "lack of sincerity" from rich countries on cutting emissions and helping the developing world.
"You will find a huge gap if you make a comparison between their pledges and the actions they have so far taken," Yu said, calling on rich nations to "do some soul-searching".
Developing nations are seeking at least 300 billion dollars in assistance, which Yu said was not "charity" but the "legal obligation" of the rich.
China has proposed that by 2020, it will curb emissions per unit of gross domestic product by between 40 and 45 percent compared to 2005 levels. But with China's economy growing fast, its emissions overall would still rise.
US climate negotiator Todd Stern defended Obama's policy, saying the administration had set far-reaching goals in the decades to come.
Obama has proposed the United States would cut overall emissions by 17 percent by 2020 off 2005 levels.
"By 2025, that number would go up to close to 30, by 2030 it would be 42 percent reduction below 2005 and it would just march up from there," Stern told PBS television.
"This would really involve a seismic change in US policy."
The cost of failure in Copenhagen was underlined Tuesday by the UN's World Meteorological Organisation, which said the current decade was shaping up to be the hottest since accurate records began in 1850. Related article: Plan B for climate
Negotiators had sought to restore calm after the leaked draft Danish text appeared to give more emissions leeway to richer powers, to the G77's anger.
UN climate chief Yvo de Boer insisted the draft was out of date and had no chance of being endorsed as the final version.