DHAKA, June 4, 2010 (AFP) - Bangladeshi firefighters said Friday that an illegal chemical warehouse had fuelled a toxic blaze that ripped through one of Dhaka's most densely populated areas, killing nearly 120 people.
The deadliest fire in Bangladesh's 39-year history raged for three hours late Thursday, destroying at least six multi-storey apartment buildings, one of which was hosting a wedding party, and gutting a string of small shops.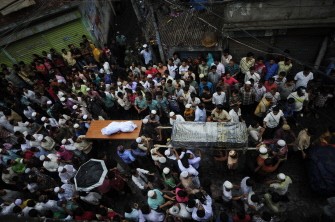 Residents and relatives carry the coffins of the previous day's Old Dhaka fire victims for burial in Dhaka on June 4, 2010. AFP photo
"At least 117 people have died and rescue workers are still finding bodies," the city's district administrator Muhibul Haque said.
The fire began when an electrical transformer exploded, with the flames spreading rapidly to a warehouse next door which was illegally storing strong adhesives used to manufacture shoes, fire official Masudur Rahman Akand told AFP.
"The adhesives are incredibly flammable. When the flames hit the chemical warehouse it created a huge fireball which engulfed the surrounding buildings," he said.
Hundreds of people were trapped in burning buildings as rescue workers struggled to contain the blaze, their work hampered by the narrow lanes of the crowded residential area and the choking, toxic smoke.
"The temperature and fumes became unbearable because of the chemicals," fire chief Abu Nayeem told AFP.
"We struggled to get inside due to the narrow stairways of the very old buildings. It was almost impossible for us to get firefighting equipment into the area," he added.
At least six large, residential buildings in old Dhaka, the historic heart of the city, were engulfed by the blaze.
"I heard a huge explosion and then something shot through my window and suddenly our furniture was on fire," said witness Badal Chandra Barman, who sustained serious burns on his upper body.
"I grabbed by wife and daughter and ran out into the street -- but the road itself was burning from the chemicals, we had to run through the flames to escape," he said.
Witness Younus Haoladar, 38, said the chemical explosion ignited the surrounding buildings so quickly that people did not know what had hit them.
"It was like a volcanic eruption -- something like lava was running down the street," Haoladar told AFP.
"I saw three or four people die in a matter of seconds," he said.
More than 40 members of the wedding party were among the dead -- a toll firefighters attributed to the fact that stoves for cooking the wedding banquet had exploded in the stairwells, cutting off any means of escape.
Army medical teams were called in to help overwhelmed staff at the Dhaka Medical College Hospital -- the country's largest -- where most of the hundreds of victims, many with life-threatening injuries, were taken.
"We consider burns to 15 percent of the body to be critical, but the majority of victims today sustained burns to at least 30 percent of their body," hospital burns unit director Shamanto Lal Sen said.
He said 14 critical patients had been transferred to a nearby military hospital for further treatment.
All off-duty medical personnel were called in and by Friday morning, the wards and corridors of the hospital were overflowing with badly burned patients and weeping relatives.
Prime Minister Sheikh Hasina, who was scheduled to visit the injured Friday, announced a full investigation into the blaze.
Special prayers will be held across the Muslim-majority country on Saturday, which has been declared a day of national mourning, said Amul Kalam Azad, the prime minister's press secretary.
Fires due to short-circuits, substandard wiring and electrical faults are common in Bangladesh, where building regulations are rarely enforced.