Haitians head to vote Sunday in an election marred by violence and concerns of fraud, with a cholera epidemic eating away at the earthquake-ravaged country.
Voters will choose a successor to President Rene Preval, who is not running for reelection, as well as 11 of the country's 30 senators and all 99 parliamentary deputies in the landmark vote.
Sunday "is an important day for the country's future," Preval said Saturday in a recorded broadcast message, urging voters to act with "order and discipline... so election day goes off well and Haiti can move forward."
In the Petionville suburb of Port-au-Prince, armed peacekeepers stood guard as boxes of ballots were unloaded from a UN convoy.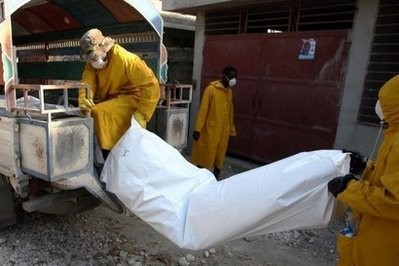 Health workers at a tent city on the outskirts of Port-au-Prince remove the body of a cholera victim.
Local officials said the ballot boxes would arrive later that night or early Sunday ahead of the start of the voting, with polling stations open from 6:00 am to 4:00 pm (1100 to 2100 GMT).
Over 4.7 million people are eligible to take part in the election, the results of which are to be made public starting December 5, with the official tally announced on December 20.
The new president will lead the poorest country in the western hemisphere, a nation of around 10 million people where 80 percent of the population lives on less than two dollars a day.
Front-runners among the 18 candidates include Jude Celestin, an engineer supported by Preval; academic and former first lady Mirlande Manigat; and Michel Martelly, a popular singer widely known as "Sweet Micky."
The election comes as Haiti battles a cholera outbreak that has claimed at least 1,648 lives. It is also the first election since a devastating 7.0-magnitude earthquake in January killed more than 250,000 people.
The campaigning has occasionally turned violent, with at least one person killed and several wounded when gunmen opened fire on a rally for Martelly late Friday. His spokeswoman said it was an attempt on the candidate's life.
Two people were shot dead earlier in the week in Beaumont, a small town in southwestern Haiti, when supporters of Celestin and candidate Charles Henri Baker squared off with firearms, rocks and bottles.
The campaigning has also been marred by riots in the northern city of Cap-Haitien against UN peacekeepers, accused of introducing the cholera.
Despite the violence, Haitians in recent days have waited in long lines snaking through the capital's ubiquitous tent camps in order to register.
"I hope I will get my voting card. It is my duty to vote, it is for my country after the cholera and the earthquake," first-time voter Josue Phanon told AFP, adding that he still did not know who he would vote for.
The latest opinion poll gave an eight-point lead to Manigat, a long-time opposition leader and widely respected former first lady.
Manigat, an assistant dean at Quisqueya University, is pushing education and promising a break from the corruption-tainted administrations of the past.
"Haitians do not want continuity. They want change, to see a rupture from the past," she said in an interview Wednesday with AFP.
Celestin, 48, who rose to prominence when Preval tasked him with leading road-clearing and rebuilding efforts after the earthquake, has struggled to shake off the image of being too close to the unpopular president.
But he enjoys the support of the ruling party and smiles down from posters on nearly every street corner in the capital.
Tens of thousands of Haitians gathered for a Celestin rally on Thursday that included nearly four hours of song and dance, and just 10 minutes of political speech.
The next day Manigat accused Celestin's backers of hoarding 500,000 fake ballots and warned that widespread fraud could derail her candidacy.
Martelly also alleged "massive fraud" on Friday, blaming officials close to Manigat and Celestin.
No candidate is expected to win the 50 percent of votes needed for an outright victory. The two front-runners are expected to make it through to a January 16 run-off, but nothing is certain in Haitian politics.
UN peacekeeping mission chief Edmond Mulet said in a newspaper notice Saturday that all votes cast would be duly respected, and authorities banned motorbike traffic and alcohol sales on Sunday as extra security measures.
Authorities in the Dominican Republic meanwhile said a 12-year-old had been infected with cholera, bringing to six the total number of confirmed cases in the country, which shares a porous border with Haiti.