Fears over the dollar's future rose Tuesday amid optimism about economic recovery at a meeting of world finance chiefs in Istanbul, where violent protests broke out in the streets.
Finance ministers and central bankers at the annual meetings of the International Monetary Fund and World Bank were under pressure to bolster fragile growth that faces the risks of surging unemployment and weak banks.
"We seem to have pulled back from the brink, and even if as we all know it is much too early to declare victory, we have at least stepped onto the road of recovery," IMF chief Dominique Strauss-Kahn told delegates.
Outside the convention centre in Turkey's financial capital, Istanbul, where the IMF and World Bank meetings took place, riot police fired tear gas and deployed water cannons against nearly 2,000 protesters.
"IMF: friend of bosses, enemy of workers" and "Your democracy is a dictatorship, your economy is slavery. Get out, thieves!" read banners held up by demonstrators at the rally organised by leftist groups and trade unions.
Officials said about 50 protesters were detained but no one was injured.
The talks are set to wind up on Wednesday as world stocks powered higher.
Investor optimism stoked a rally on Wall Street and in London the FTSE 100 index climbed 2.26 percent after Australia boosted confidence by becoming the first major developed economy to raise interest rates.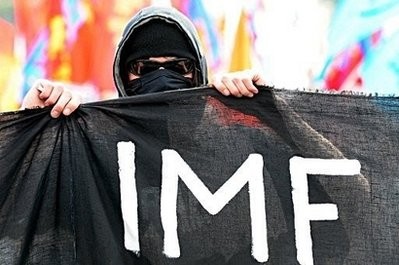 A protester wears a mask during a anti-International Monetary Fund (IMF) and World Bank protest on Taksim square in Istanbul
But tensions mounted over the role of the dollar after a report in the British newspaper The Independent about plans to no longer base oil prices on the dollar but instead on a basket of currencies excluding the greenback.
The European single currency in late-day trade rose to 1.4748 dollars in London from 1.4648 dollars late on Monday in New York following the report and the dollar also slid against the Japanese currency, to 88.74 yen from 89.51.
Analysts at Standard Chartered spoke of a possible "volcanic eruption brewing under the dollar."
The market turbulence came as the United Nations called for a new global reserve currency to end dollar supremacy, which it said had contributed to global imbalances that helped stoke the global economic crisis.
Top UN official Sha Zukang said that "greater use of a truly global reserve currency, such as the IMF's special drawing rights (SDRs)," the fund's international reserve asset, would benefit global development.
Strauss-Kahn meanwhile called on the 186 member states of the IMF and World Bank to encourage greater global economic cooperation and "seize this opportunity to shape the post-crisis world" and reduce poverty. Related article: Poor economies press for role
But Germany balked at the massive increase in IMF resources, saying that the new funds could encourage governments to adopt risky economic policies in the confidence that they could eventually get bailed out if they failed.
"Moral hazard issues... arise from the vast increase in fund resources that is currently taking place. This increase should be viewed as a temporary measure," German central bank chief Axel Weber said in a speech to delegates.
Some IMF member states have pledged to increase the Washington-based institution's resources by more than 500 billion dollars (340 billion euros) to boost its lending capacity to countries hit by the global economic crisis.
Germany has lent 15 billion euros to the IMF under this commitment.
The IMF has handed out tens of billions of dollars (euros) of credit in recent months to prop up faltering economies around the world and the World Bank has stepped up its lending for 2009 to record levels.
The talks in Istanbul took place against the backdrop of a historic shift away from a reliance on US consumer spending as the dominant engine of global economic growth towards powerful emerging economies like China and India.