SEOUL, Jan 3, 2011 (AFP) - South Korean President Lee Myung-Bak said Monday that the door for inter-Korea dialogue was "still open" despite high tensions on the peninsula, holding out the offer of closer economic ties with the North.
In his New Year policy address, Lee also urged the Pyongyang to abandon its "military adventurism," pledging that another threat against "an inch of our territory" would be meet with a strong response.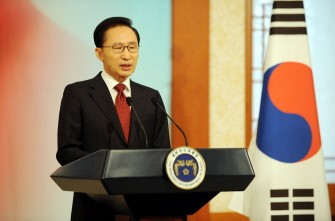 South Korean President Lee Myung-Bak delivers his New Year policy address to the nation in Seoul on January 3, 2011. AFP
Relations between the two Koreas plunged after the North shelled a border island in November, killing four people, including two civilians.
The South has since staged a series of military exercises, including a live-fire drill on December 20 on the island but the North did not follow through with threats of a new and deadlier attack.
Despite the heightened tensions, Lee held out hopes for improved ties.
"If the North exhibits sincerity, we have both the will and the plan to drastically enhance economic cooperation together with the international community," he said.
"The North must come to the realisation that nothing can be gained through military adventurism.... Nuclear weapons and military adventurism must be discarded," he added.
The North's shelling attack on Yeonpyeong island, the first attack on a civilian area since the 1950-53 Korean War, drastically heightened cross-border tension and sparked a regional crisis.
The South's flurry of military exercises, including one with the United States on the Yellow Sea, drew an angry response from Pyongyang.
World leaders were quick to condemn the November 23 attack, with many calling on China to rein in its unruly ally, something Beijing so far appears unwilling to do.
China instead proposed bringing together the envoys of the long-stalled six-nation disarmament talks on the nuclear-armed North to defuse tension.
But Seoul, Washington and Tokyo have showed a lukewarm response, saying Pyongyang first needs to show sincerity for denuclearisation and to mend ties with the South.
President Lee's comments on Monday came just days after Pyongyang called for improved relations in 2011.
The North, in a joint New Year editorial of state media on Saturday, said recent confrontation "should be defused as early as possible," stressing dialogue and cooperation "should be promoted proactively."
"This year we should launch a more determined campaign to improve inter-Korean relations," said the editorial.
Pyongyang pulled out of nuclear talks involving the two Koreas, the United States, Russia, China, and Japan in April 2009 and ordered UN nuclear inspectors out of the country.
It staged a second nuclear test a month later.
North Korea reportedly offered nuclear concessions to US politician Bill Richardson in a visit last month but Seoul and Washington have expressed scepticism about the North's apparent overtures.