Two suicide bombers blew themselves up in northern Iraq, killing at least 34 people in the deadliest attack since US forces pulled out of towns and cities nationwide just over a week ago.
The bombers targeted two brothers working for Iraqi security forces in Tal Afar in an attack against a building used as a court annexe to interrogate suspects in "terrorist attacks," police colonel Khaled Omar told AFP.
They blew themselves up minutes apart, with the second explosion engulfing civilians who had gathered to help victims of the first blast, a security official said.
The violence was the worst to hit the conflict-hit country since US forces pulled out of towns and cities on June 30 under a landmark accord between Baghdad and Washington.
Dr Fathi Yassin at Tal Afar hospital said 34 people were killed and 60 wounded in the attack, which came a day after two car bombs exploded in the main northern city of Mosul, killing 12 people and wounding dozens more.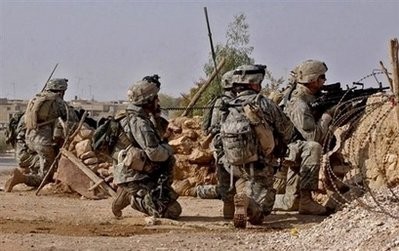 File picture shows US troops in Tal Afar, north of Baghdad
Neither of the two brothers targeted by the Tal Afar bombers were killed, the security official said, but police and hospital sources said the casualties included women and children.
Another six people were killed and 24 hurt when two bombs went off in a market in the mainly Shiite district of Sadr City in Baghdad, police and hospital sources said.
Tal Afar is a mostly Turkmen town between Mosul and the Syrian border and has often been the target of violence.
In March 2007, it was hit by one of the deadliest single attacks in Iraq since the US-led invasion of 2003 when a suicide truck bomb killed more than 150 people.
The spate of bombings comes just over a week after US troops pulled back from urban centres under an agreement that paves the way for a complete American military withdrawal by the end of 2011.
The four weeks leading up to the US withdrawal witnessed the highest death toll in the conflict-hit nation in 11 months, according to official figures.
A total of 437 people, including 372 civilians, were killed in June, according to figures compiled by government ministries -- the highest toll since since July 2008.
Prime Minister Nuri al-Maliki had warned last month that insurgents and militias were likely to step up attacks in a bid to undermine confidence in Iraqi security forces.
US Vice President Joe Biden, who has repeatedly voiced concern about lingering feuds between Iraq's various sects being a roadblock to political progress, was last week rebuffed on the issue when he visited Iraq.
"We don't want other parties to interfere in this matter because it will cause complications," government spokesman Ali al-Dabbagh said on state television, referring to the country's national reconciliation process.
"(Joe Biden) has to convey to President (Barack) Obama the common desire of Iraqis to solve their problems together," he said.
Baghdad's comments came a day after Biden warned of a "hard road ahead if Iraq is going to find lasting peace and stability," alluding to the need to bolster trust between different ethnic and religious groups.
Maliki, who will visit Washington on July 21, said that the US troop pullback signalled that the two countries had "entered a new phase."