NEW YORK, Oct 16, 2011 (AFP) - At least 88 people have been arrested in New York after police on horseback clashed with protesters in Times Square on Saturday during a global day of demonstrations against corporate greed.
Police loaded at least 45 "Occupy Wall Street" protesters detained at the square onto waiting vans. Thousands of demonstrators mixed with tourists had poured into the major commercial intersection, under a heavy security presence.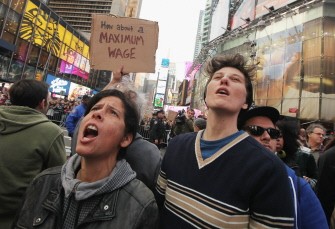 AFP - Demonstrators associated with the 'Occupy Wall Street' movement protest in Times Square on October 15, 2011 in New York City.
The clashes took place at the corner of 46th Street and Seventh Avenue after a day of marches that began in the city's Financial District -- the nerve center of New York's protest movement.
Mounted police pushed back protesters who were trying to enter Times Square. Dozens of panicked people then began to run and a woman fell down. She suffered a head injury and was swiftly carried away on a stretcher.
"All day, all week, occupy Wall Street!" demonstrators shouted.
Police arrested 24 other protesters earlier for trespassing at a Citibank branch, a New York Police Department spokesman said.
Citibank said its branch staff had called police after a "large amount of protesters" entered the bank near Washington Square Park.
"They were very disruptive and refused to leave after being repeatedly asked," Citibank said in a statement. "The police asked the branch staff to close the branch until the protesters could be removed."
Fourteen people were arrested in Washington Square Park after the Times Square rally for violating the midnight curfew, an NYPD spokesman said.
Five other protesters wearing masks were arrested elsewhere in the city, taking the total number of arrests to 88, police said.
Demonstrators also walked to a Chase bank branch in support of the 14,000 workers sacked by the lender in the wake of cutbacks made after a government bailout totaling $94.7 billion.
Students, families with strollers and trade unionists marched towards Wall Street carrying placards, chanting: "We are the 99 percent," "We are the people" and "Mr Obama we need your support."
Families joined the march and tourists on several open-top buses cheered on the protesters by making the V for victory sign.
The Occupy Wall Street movement was buoyed by a decision Friday to halt plans to evict protesters from New York's Zuccotti Park, which they have called home for a month.
In Washington, between 2,000 and 3,000 people assembled at the National Mall on the eve of the inauguration of a memorial to slain Nobel peace laureate Martin Luther King, Jr.
"We have bailed out the auto industry, and we should have. We bailed out Wall Street. Now it's time to bail out working Americans. That's what this is about," Martin Luther King III, the civil rights leader's son, told the crowd.
"I believe that if my father was alive, he would be right here with all of us involved in this demonstration today."
Veteran activist Al Sharpton chimed in: "Occupy Wall Street, occupy Washington, occupy Alabama! We've come to take our country back to the people."
The reference to Alabama was over a recent strict anti-illegal immigrant law that has been slammed by rights activists.
Around 200 demonstrators in the US capital had earlier marched to a Bank of America branch, where they had planned to close accounts. But they were not allowed inside and the bank was hastily closed.
In Miami, a city that rarely hosts mass demonstrations, at least 1,000 people marched downtown. The crowd included youth and retirees standing up against corporations, banks and war.
Hollywood actor Sean Penn became the latest celebrity to offer his backing to the movement, saying on CNN late Friday: "I applaud the spirit of what is happening now on Wall Street."
"This generation -- and this does begin, I think significantly with the Arab Spring -- is starting to tell the world that we cannot be controlled by fear anymore and we will not be denied," he said.