Anti-government protesters clashed with security forces in Thailand's capital Saturday, leaving dozens injured as soldiers used tear gas and water cannon to try to disperse demonstrators.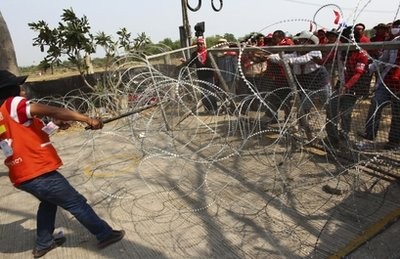 Anti-government protesters try to break a barrier to enter Thaicom compound in Pathum Thani, north of Bangkok, Thailand, Friday, April 9, 2010
Protesters hurled rocks and shots were heard as troops tried to restore order in Bangkok's historic district, where tensions escalated after weeks of mass rallies by "Red Shirt" protesters seeking to overthrow the government.
Emergency services said 47 people had been hospitalised.
Shots were fired in the air but it was not clear whether blanks or live ammunition was used, according to an AFP reporter at the scene.
"At Phan Fa bridge, the authorities must finish dispersing the protesters before nightfall," said army spokesman Sunsern Kaewkumnerd, referring to one of the Reds' protest sites in the old city.
Dozens of Reds tried to force their way into a military base but were repelled with water cannon.
The army said it had deployed armoured personnel vehicles at some locations in the city to prevent the Red Shirts from forcing their way inside as authorities moved to crack down on the demonstrations in the old district.
"It's an operation to reclaim areas from protesters under the state of emergency rule," government spokesman Panitan Wattanayagorn told local television.
Thousands of demonstrators also continued to occupy a key intersection in the main commercial district of the Thai capital.
Prime Minister Abhisit Vejjajiva has insisted he would not cede to the Reds' demand for snap elections, after they stormed a television broadcaster Thursday and managed to put their channel back on air for a few hours.
Tens of thousands of police and soldiers have been mobilised to restore order, but top Reds remained defiant in the face of signs that the army might also be preparing to disperse the demonstrators in the commercial hub.
"I'd like to tell Abhisit that you can come and crack down on our rally anytime," a Red Shirt leader, Nattawut Saikuar, said from the rally stage set up in the heart of Bangkok that has become the focus of the protests.
"We want to stay until you dissolve the House."
The Reds, many of whom support ousted premier Thaksin Shinawatra, accuse the government of being illegitimate because it came to power with military backing in 2008 after a court ousted Thaksin's allies from power.
The Reds managed to restore their anti-government People Television (PTV), which was shut down Thursday under emergency rule aimed at quelling the turmoil. But troops later retook the building, pulling the plug again.
"The station is now totally under military control," said Sunsern.
Arrest warrants have been issued for many of the top leaders of the red-clad movement, but so far none are reported to have been taken into custody.
Abhisit, who remained holed up at an army barracks, insisted his government would not back down.
"I instructed all officials, police and soldiers that we have no right to be disheartened or fail with this mission," he said late Friday, adding that the top priority was to uphold the rule of the law.
A grenade exploded at the Police Crime Suppression Division unit in a northern suburb of Bangkok early Saturday but no one was hurt, officials said -- the latest in a series of minor blasts.
The rallies are the latest chapter in years of political turmoil in Thailand pitting Bangkok's ruling elite against the mainly poor and rural Reds.
The country has been riven by political tensions since a bloodless coup ousted telecoms tycoon-turned-premier Thaksin in 2006.