TRIPOLI, Lebanon (AFP) – Rescuers on Friday continued the search for dozens of people still missing after a freighter sank in stormy seas off the northern coast of Lebanon with more than 80 people on board.
A Lebanese military spokesman said 38 crew members had been found alive and four bodies were pulled from the water after the Panamanian-flagged Danny F II, which was transporting livestock, sank in bad weather.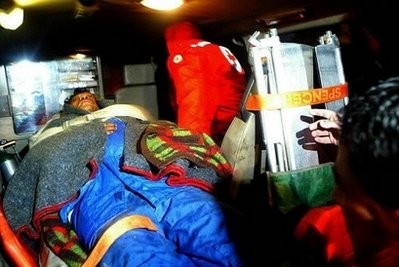 Lebanese medics transport a survivor from a freighter that sank off Lebanon. (AFP photo)
"We have recovered 42 people, among them four dead," he told AFP, speaking on condition of anonymity.
He added that the search operations had been widened early Friday to international waters near Syria.
"We have two Lebanese naval ships, two civilian vessels as well as boats from the UN force stationed in Lebanon (UNIFIL) taking part in the search," he said. "If the weather conditions improve, the search will be made easier."
A rescue official told AFP early Friday that one of those found alive had died after being pulled out of the sea, taking the death toll to five.
"The sea conditions were rough and we couldn't get him to hospital in time," he said.
One of the survivors, a Filipino national, told rescuers that the British captain of the vessel which was heading from Uruguay to the Syrian port of Tartous, had been killed.
"He told us that the ship's engine went down and the captain sounded the alarm and told everyone to jump in the water," a rescue official recounted. "He said that 10 minutes after they jumped, the ship overturned sideways in very high waves and sank with the captain still on board."
Taking part in the search were also Syrian boats as well as a British rescue helicopter which flew from Cyprus for backup on Thursday night.
"The sea conditions are rough and we need to find the survivors quickly because they run the risk of hypothermia," a Tripoli port official said late Thursday.
"Rescue efforts are being hampered by the fact that we're operating in an area where the waves are as high as three metres (10 feet) and because of the floating dead animals," he added.
The military spokesman said the crew apparently had time to put on their life jackets before the boat capsized.
The ship overturned about 11 nautical miles off Tripoli after sending a distress signal at around 3:55 pm (1355 GMT) Thursday.
It had changed course and was trying to reach the Lebanese capital Beirut when it capsized.
The ship's operator, Agencia Schandy, told AFP in Montevideo that the Danny F II had a crew of 76 and six passengers -- four Uruguayans, one Brazilian and an Australian.
It had left Montevideo on November 23 with about 10,000 sheep and almost 18,000 cattle bound for Tartous, north of Tripoli, but was forced to change course because of the bad weather.
All of the animals were presumed lost.
A Togolese-flagged ship also sank off the southern coast of Lebanon last week. Several crew members were rescued by Israel but a number are still missing and presumed dead.