XINING, China, April 15, 2010 (AFP) - At least 66 students died in China's quake, state media said Thursday, evoking grim parallels with the massive 2008 disaster that saw thousands killed when schools came crashing down.
State television broadcast images of rescuers shifting through huge mounds of rubble to try to reach children buried after Wednesday quake in the remote Yushu area, as discarded school books and clothes lay next to the debris.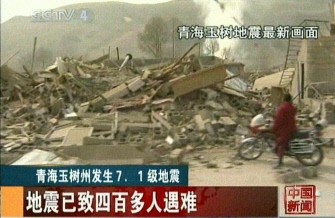 This frame grab taken off Chinese state CCTV shows damaged buildings following a strong earthquake in Yushu County in Qinghai province on April 14, 2010. (AFP photo)
The issue is extremely sensitive in China after thousands of children died in May 2008 in the huge Sichuan quake when their shoddily constructed schools collapsed on them, triggering allegations of corruption.
Wang Yubo, education chief of the northwestern province of Qinghai where the 6.9-magnitude quake struck Wednesday, said at least 11 schools were destroyed, according to the official Xinhua news agency.
Dozens of frantic parents were waiting for news of their loved ones at a vocational school in Yushu, it said.
"When the quake struck, the students had just finished their morning exercise. Most of them were having breakfast in the school canteen or cleaning their classrooms," said the school principal Kunga Tenzin. "Still, some were trapped in the dorms."