Indonesia, Sept 3, 2009 (AFP) - Rescue workers on Indonesia's Java island searched by hand Thursday for dozens of people trapped by a major 7.0-magnitude earthquake that killed at least 46, officials said.
Police and soldiers were called in to help find people buried in collapsed homes and buildings in Cianjur district south of the capital Jakarta in the wake of the quake, which caused panic across the densely-populated island, officials said.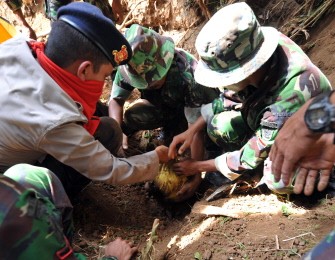 Indonesian policemen and soldiers lift a dead body during an evacuation at Cikangkareng village in Cibinong on August 3, 2009 (AFP photo)
"There are 46 people dead (across Java) and about 42 are still buried in Cianjur. Their chances of surviving are slim," disaster management agency spokesman Priyadi Kardono told AFP.
"So far we are digging them out manually with hoes, but we hope to bring in the heavy machinery soon," he said.
In the worst-hit village of Cikangkareng, the earthquake caused landslides that stripped hillsides bare and smothered homes.
Police and rescue workers could be seen scrambling over banks of earth to carry body bags away from the rubble.
Officials said the worst damage from the earthquake, which struck off the south coast of Java at around 3:00 pm (0800 GMT) Wednesday was in the districts of Cianjur, Garut and Tasikmalaya in West Java province.
The quake was also strongly felt in Jakarta, 200 kilometres (123 miles) from the epicentre, where panicked residents poured out of swaying office towers, shopping malls and homes as the tremors hit and at least one person was killed.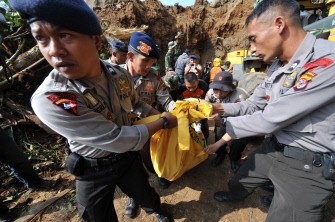 Indonesian police carry a dead body during an evacuation at Cikangkareng village in Cibinong on August 3, 2009 (AFP photo)
"About 18,000 houses and buildings have been damaged," disaster agency official Maman Susanto said.
The quake was also felt in other Indonesian islands, including Bali and Sumatra.
Australian Prime Minister Kevin Rudd said his country had offered assistance to neighbouring Indonesia to deal with the aftermath of the earthquake.
"At this stage, I am not aware of any requests for assistance from the Indonesian authorities," Rudd told public broadcaster ABC Radio.
"Of course, we stand ready to provide that assistance."
The West Java provincial administration promised to allocate 90 billion rupiah (8.82 million dollars) of recovery aid, according to Koran Tempo newspaper.
Indonesia's meteorology and geophysics agency issued a tsunami warning after the quake but retracted it after it became clear there was no danger.
Agency technical chief Suharjono said aftershocks were continuing but were unlikely to cause serious damage.
"We are still having aftershocks, but they are of a smaller magnitude. They are not frequent and are about 5.0-magnitude. People won't feel their impact," Suharjono said.
Indonesia sits on the so-called Pacific Ring of Fire, where several tectonic plates converge.
A 7.7-magnitude offshore quake triggered a tsunami off southern Java in 2006, killing 596 people and displacing some 74,000.
A massive quake off the coast of the Indonesian island of Sumatra in 2004 triggered a catastrophic tsunami that killed more than 200,000 people around Asia, including 168,000 in Indonesia.