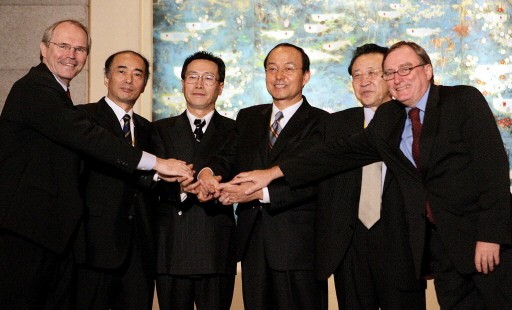 This file photo dated 19 September 2005 shows 6-party talks' negotiators joining hands at the close of six-party talks over DPRK nuclear crisis at the Diaoyutai State Guest House in Beijing.
Six-nation talks aimed at dismantling Democractic People's Republic of Korea (DPRK)'s nuclear program will begin in Beijing on December 18, China said Monday, ending a 13-month hiatus during which Pyongyang tested an atomic bomb.
China's announcement of the start date offered some hope that the United States and DPRK were prepared to compromise to end the long-running dispute, although analysts cautioned against expecting a major breakthrough.
"I find it extremely difficult to be optimistic about this next round of talks," said Ralph Cossa, president of the Pacific Forum CSIS research institute in Hawaii and member of the Council on US-Korean Security Studies.
"It seems to me so many people are now just defining success as holding talks."
The six-nation forum -- which involves the two Koreas, host China, the United States, Japan and Russia -- started in 2003 in an effort to stop the North acquiring nuclear weapons.
DPRK agreed through the six-party forum in September last year to give up its nuclear ambitions in return for security guarantees, energy benefits and other aid.
But another round of talks in November failed to make any progress and DPRK pulled out of the negotiations shortly after in protest at US financial sanctions imposed against it for alleged money laundering and counterfeiting.
It then conducted its first nuclear weapons test on October 9, triggering global condemnation -- including from closest ally China -- and broader United Nations sanctions.
Under the heavy pressure, DPRK agreed on October 31 to return to the talks, but setting a start date then became a drawn-out saga amid differences over what would be discussed in the forum.
The United States had insisted that in the next round of talks DPRK would have to make major concessions and recommit to the September agreement.
The US State Department said again on Sunday, when it announced the six-party talks would likely resume next week, that the September deal must again be the focus of the new talks.