Democratic People's Republic of Korea (DPRK) and its negotiating partners have reached agreement on energy aid to compensate the communist state for shutting down its nuclear facilities, an official said Tuesday.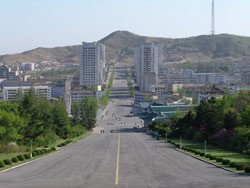 The Economic Special Zone Kaesang in DPRK
The agreement in six-nation talks at the inter-Korean border village of Panmunjom clears the way for DPRK to start disabling its plutonium-producing plants, possibly as early as this week.
DPRK agreed Tuesday to accept half the aid it has been promised in the form of energy-related equipment and other items, said Republis of Korea (RoK)'s chief negotiator Lim Sung-Nam.
"The agreement will still have to be approved by the heads of delegations meeting at the six-party talks, but it certainly means the denuclearisation process is moving on the right track," Lim told Yonhap news agency.
DPRK agreed in February to declare and disable its nuclear programmes in return for one million tons of heavy fuel or equivalent energy aid, and later set a year-end deadline for the disablement.
RoK officials had earlier said the North wanted to receive about half the promised fuel aid in the form of alternative energy assistance, including help to patch up its decrepit power plants.