A rare statement by Democratic People's Republic of Korea (DPRK) top decision-making body may herald a deep freeze in inter-Korean ties and a further delay in resuming nuclear disarmament talks, analysts said Saturday.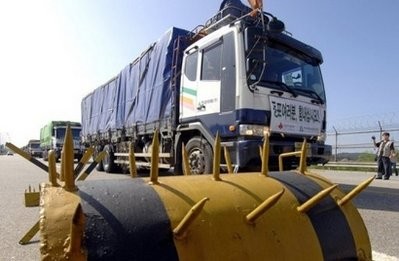 South Korean trucks carrying relief goods drive past a heavily fortified checkpoint near the inter-Korean border in Paju, north of Seoul, 2007.
The DPRK threatened Friday to break off all dialogue with Republic of Korea (RoK) unless Seoul apologises for allegedly drawing up a contingency plan to handle regime collapse in the communist state.
The powerful National Defence Commission (NDC), which is headed by leader Kim Jong-Il, denounced the alleged plan as a "crime," vowing to stage a "holy war" against those responsible for it, blaming Seoul's presidential Blue House.
Unconfirmed RoK news reports say officials have a blueprint to administer the North in the event of regime collapse, a coup or a popular uprising there.
The NDC said the "Emergency Ruling Plan" is aimed at bringing down the North's socialist regime and was worked out by RoK's authorities to complement a joint US-RoK military operation to overthrow the regime.
Unless Seoul apologises, it will be "thoroughly excluded from any dialogue and negotiations aimed at improving inter-Korean ties and securing peace and stability," it said.
The NDC statement perplexed RoK's authorities, coming only hours after Pyongyang's Red Cross authorities said they would accept food aid, which the North had shunned for two years as political tensions with the South rose.
"We find it deeply regretful that DPRK took a threatening stance toward us, based on some unconfirmed media reports," Unification Ministry spokesman Chun Hae-Sung said.
The ministry's deputy spokeswoman Lee Jong-Joo downplayed the NDC statement, saying DPRK has "routinely protested" against contingency plans.
It was unclear from the NDC statement whether the North would participate in planned talks on Tuesday on revitalising a joint industrial estate, which would be a first inter-Korean contact this year.
The talks would serve as the first test to see "whether the latest warning would accompany real action," according to Lee.
But analysts said the statement by the North's most powerful body in effect reversed earlier peace offers made since last August when Pyongyang sent an envoy to mourn the death of former RoK's President Kim Dae-Jung.
"The North believes the plan puts into a concrete form the scenario for reunification through absorption by the South," Kim Yeon-Chul of the private Hankyoreh Peace Institute told AFP on Saturday.
"This statement marks an end" to DPRK's peace initiatives taken following its second nuclear test in May last year, he said.
"The North will probably boycott all inter-Korean talks and relations will become worse. This will also have a negative impact on the six-party talks" on disarming DPRK, he added.
The North abandoned the six-party nuclear disarmament talks last April.
Pyongyang wants talks on a peace treaty with the United States and demands that sanctions be lifted before it returns to the six-party forum, grouping the two Koreas, China, the United States, Japan and Russia.
The US State Department has rejected an end to sanctions at this stage.
Yang Moo-Jin, a professor at the University of DPRK Studies in Seoul, said the rare NDC statement should be taken seriously as it carries "the very intent of Kim Jong-Il and it stands above all others."
"Non-governmental contact between the two Koreas and international efforts led by China and the United States are required to calm the situation," Yang said.