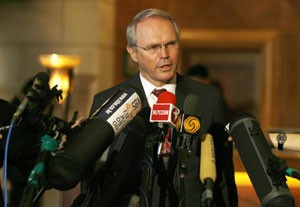 Top US nuclear negotiator Christopher Hill (R) addresses reporters at a hotel in Beijing, July 19, 2007. (AFP Photo)
Six-nation talks aimed at ending Democratic People's Republic of Korea (DPRK) nuclear weapons programmes are likely to be extended into a third day, officials involved in the discussions said Thursday.
"The talks are likely to continue until tomorrow," a Republic of Korea's(RoK) official said.
A member of the Japanese delegation echoed the statement.
"It is likely that we will have more meetings tomorrow," he said.
Neither official gave a reason for the expected extension.
China had previously announced that the latest round of the six-nation talks would be held on Wednesday and Thursday.
Envoys reported on Wednesday that there had been positive progress, with North Korea indicating it may declare and disarm all of its nuclear weapons programmes by the end of the year.
The first day of the talks ended Wednesday on an optimistic note with the RoK's envoy reporting that the North had said it was willing to declare and disable all of its nuclear facilities unexpectedly quickly.
"DPRK showed its willingness to declare and disable (its nuclear facilities) within the shortest period of time, within this year, or five to six months," Chun Yung-Woo told reporters.
The talks began after DPRK fulfilled its first obligation of a February six-nation disarmament accord by closing over the weekend its main atomic reactor complex at Yongbyon.
The Yongbyon facility made plutonium, which can be used to make nuclear bombs. However the United States and others believe DPRK has other secret facilities and programmes that can also make atomic weapons.
Under the second phase of the accord, DPRK is required to come clean on all of the nuclear weapons programmes that is has spent decades developing, and then disable them.
Eventually DPRK is required to completely and permanently scrap its nuclear capabilities, in return for a wide range of economic, political and security incentives, as part of the accord.
The United States had entered this week's talks calling for DPRK to "declare and disable" this year.
Still, many observers had been skeptical of that timetable being met considering Pyongyang's history of stalling on the diplomatic front while continuing to pursue a nuclear programme.
US envoy Christopher Hill gave a cautious assessment of Wednesday's proceedings but also appeared to indicate progress could be made at this round of six-party talks.
"I don't want to get into too many specifics on that but there were good and positive discussions," Hill said on Wednesday night when asked to confirm Chun's comments.