The Democratic People's Republic of Korea will ban the use of foreign currency from New Year's Day in another move to reassert the communist regime's control over the economy, Republic of Korea's officials and analysts said Thursday.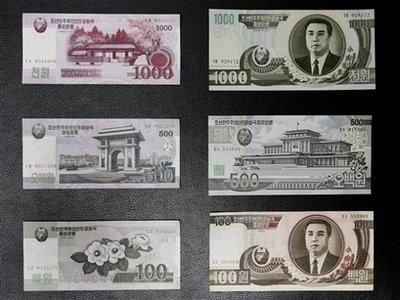 The front and back sides of North Korea's new paper currency are seen during a press conference of North Korean defector Kim Seong-min, Free North Korea Radio Representative, in Seoul, South Korea, Monday, Dec. 7, 2009.
A government official, speaking on condition of anonymity, confirmed a report of the ban carried by China's Xinhua news agency earlier this week.
Xinhua, reporting from Pyongyang, quoted a decree by DPRK's Ministry of People's Security which prohibits all units and individuals from using foreign currency from January 1.
Foreigners will have to exchange money into DPRK won, the decree said, adding that any violation would be "severely punished".
The ruling came less than a month after DPRK issued new won banknotes as part of a 100-to-one currency revaluation. It restricted the amount of old notes which could be changed for new currency, sparking widespread anger.
The revaluation was widely seen as an attempt to clamp down on a growing free-market economy, which emerged after the state food distribution system collapsed during famines in the 1990s.
In 2002 the regime introduced limited wage and price reforms, causing prices to rise sharply. The reforms were rolled back three years later and in recent years officials have been cracking down on trading in street markets.
Professor Kim Keun-Sik of South Korea's Kyungnam University said the forex ban was aimed at further curbing private markets.
"As part of efforts to tighten state control over the economy, it needs to crack down on merchants and the new rich who have been dealing in foreign currencies at private markets," Kim told AFP.
DPRK officially confines the use of foreign currency to specially designated outlets. But visitors say it is accepted at many places in Pyongyang.
Kim Yeon-Chul, director of the independent Hankyoreh Peace Institute, said the ban on using foreign exchange is aimed at stabilising the value of the new won against overseas currencies.
"In the end, all will depend on whether DPRK will be able to curb inflation, especially whether it can rein in rampant food prices through a stable suppply of food rations," he told AFP.
He said chronic food shortages eased somewhat this year thanks to favourable weather conditions and inflows from abroad, giving Pyongyang a chance to carry out the currency revaluation.