Democratic People's Republic of Korea (DPRK) said Monday it would lift border restrictions and restart family reunions and visits for Republic of Korea (RoK) tourists, raising hopes of an easing of tensions after months of bitter hostility.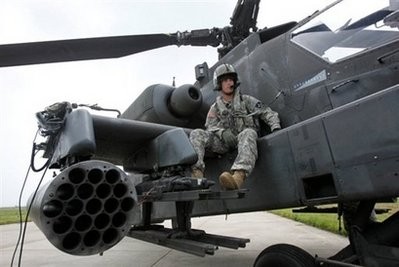 A US soldier sits the wing of a Apache attack helicopter at a US airbase in Gunsan in South Korea. (AFP Photo)
But in a sign of continuing friction, the hardline communist state also warned of "a merciless and prompt annihilating strike" involving nuclear weapons if a US-RoK military exercise infringes its sovereignty.
The tourism agreement was disclosed a day after a meeting in Pyongyang between DPRK leader Kim Jong-Il and Hyun Jung-Eun, chairwoman of the South's giant Hyundai Group which operates joint tourism and business ventures.
Hyun travelled to the North last week and won the release of an employee detained since March for allegedly criticising Pyongyang's regime.
Earlier this month the North pardoned two American journalists after former US president Bill Clinton visited Pyongyang and held talks with Kim. The North reportedly indicated to him that it wants better US ties.
Cross-border relations have soured since a conservative South Korean government came to power in February 2008 and scrapped the "sunshine" aid and engagement policy of its liberal predecessors.
International tensions have risen this year following nuclear and missile tests by the North and a US-led drive for tougher United Nations sanctions.
The tour suspensions have cost the impoverished North millions of dollars in lost revenue at a time when it is hit by the intensified sanctions.
The official Korean Central News Agency (KCNA) said tours to the scenic Mount Kumgang resort on the east coast and to Kaesong, a historic city near the west coast, would resume as soon as possible.
It said the North would allow RoK tourists more access to Mount Kumgang and a new tour to Mount Paekdu near its border with China.
The North also promised to lift limitations on border crossings by businessmen visiting a Seoul-funded industrial estate at Kaesong. It had never closed the frontier.
It said it would in early October resume reunions of families separated since the 1950-1953 war.
The Seoul government suspended tours to Kumgang after soldiers in July 2008 shot dead a RoK housewife who strayed into a military zone. It would have to approve their restarting but made no immediate announcement.
Pyongyang halted day trips to Kaesong and limited access to the industrial estate in December as ties worsened.
Kim Yong-Hyun, of Seoul's Dongguk University, said the North realised that cross-border hostility was a stumbling block to its desire to improve relations with the United States.
"DPRK , under growing UN sanctions, also has economic reasons to jump-start the cash-generating business with RoK," he said, predicting that the Seoul and Pyongyang governments would soon resume talks.
"Inter-Korean relations are starting to get back on track but there will be no quick fix," he said.
The North has received about 410 million dollars since tours to Kumgang began in late 1998, excluding initial investments and payments.
Yang Moo-Jin, of Seoul's University of North Korean Studies, also said inter-Korean hostility hampered better US ties.
"There will be a dialogue but also a significant degree of difficulty in pushing it forward."
In a sign of the difficulties, the North's military supreme command described war games starting Monday south of the border as a "grave threat" to peace and a prelude to an invasion.
It vowed to respond to "even the slightest military provocation" infringing on its sovereignty with a "merciless and prompt annihilating strike at the aggressors with all offensive and defensive means including nuclear deterrent involved."
The US and RoK military command has notified the North of the "Ulchi Freedom Guardian" exercise from August 17-27, calling it defensive and "not meant to be provocative in any way."
Some 10,000 US troops from bases in RoK and overseas, plus about 56,000 Korean troops, will take part.