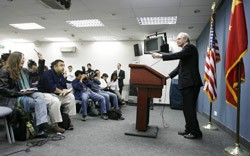 Top US negotiator Christopher Hill gestures while speaking to reporters at the US Embassy in Beijing, Oct. 31, 2006, following a meeting with his DPRK counterpart (AFP Photo)
Democratic People's Republic of Korea confirmed Wednesday it would return to six-nation nuclear disarmament talks on condition that the issue of lifting US financial sanctions is settled during the negotiations.
"The DPRK decided to return to the six-party talks on the premise that the issue of lifting financial sanctions will be discussed and settled between the DPRK and the US within the framework of the six-party talks," a foreign ministry statement said.
The announcement that the North has agreed to return to negotiations came Tuesday night in Beijing, just three weeks after DPRK state stunned the world with its first atomic test.
The foreign ministry statement on the official Korean Central News Agency said the North "recently took a self-defensive counter-measure against the US daily-increasing nuclear threat and financial sanctions against it."
DPRK has boycotted the six-way talks since November 2005 in protest at US moves to freeze its accounts in a Macau bank.
The US chief six-party delegate Christopher Hill said Tuesday that DPRK envoy Kim Kye-Gwan had told him earlier in the day that it was now ready to deal with the issue in the six-party forum.
"They made very clear that these were not conditions, but they wanted to hear that we would address the issue of the financial measures in the context of the talks," Hill said.
"And I said we would be prepared to create a mechanism or working group and to address these financial issues."
The talks bring together North and South Korea, China, the United States, Japan and Russia. They began in 2003.
South Korea welcomed North Korea's decision to return to six-party nuclear disarmament talks but some newspapers Wednesday cautioned against too much optimism.
Prime Minister Han Myeong-Sook late Tuesday hailed the North's decision as "a starting point for the fundamental settlement of the nuclear issue."
"It can be seen as a positive sign of change in North Korea's attitude," she said, after the agreement reached in surprise talks in Beijing involving envoys from the United States, China and DPRK.