Democratic People's Republic of Korea (DPRK)'s Yongbyon nuclear reactor was ostensibly built to generate electricity but is reportedly not connected to any power lines.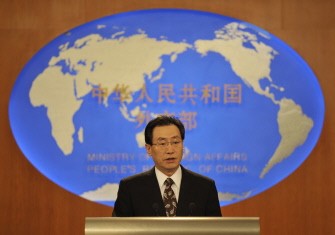 Wu Dawei, China's chief envoy to the international talks on disarming DPRK speaks at a press briefing in the Foreign Ministry in Beijing on June 26, 2008.
Instead, experts say, it produced enough plutonium from its fuel rods for possibly up to a dozen nuclear weapons over its 20-year history.
The complex, 96 kilometres (60 miles) north of Pyongyang, is at the heart of US-led diplomatic efforts to shut down the North's nuclear programme in exchange for energy aid and major diplomatic and security benefits.
On Thursday, as part of a six-nation deal, it handed over an unprecedented declaration of its nuclear activities there.
The North shut down the complex last July and a US team has been supervising work to "disable" it -- make the facilities unusable for at least a year.
Under the upcoming final phase of the deal, Yongbyon should be dismantled and all nuclear material handed over.
The reactor had a capacity of five megawatts and began operating in 1987. Two larger reactors are at the same site but are not thought to be operational, along with a plutonium reprocessing plant several storeys high.
The five-megawatt reactor was too small to make much difference to the nation's acute power shortage, and a US Congressional Research Service (CRS) report in January 2007 said it reportedly had no power lines attached to it.
Nevertheless, the North demanded steep compensation for lost energy when it first shut down Yongbyon under a 1994 "Agreed Framework" deal with the United States.
An international consortium started work on two proliferation-resistant light water reactors, and the United States provided an interim 500,000 tonnes a year of heavy fuel oil.
The deal collapsed in 2002, when Washington accused the North of running a covert highly enriched uranium programme.
DPRK denied the charge but restarted Yongbyon after an eight-year shutdown, expelled UN atomic inspectors and announced it was leaving the nuclear Non-Proliferation Treaty.
When the reactor was operational, the CRS report said, it could produce about six kilograms (13 pounds) of plutonium annually, enough for one small bomb.
US intelligence officials believe the North removed fuel rods for reprocessing into plutonium during a 70-day shutdown in 1989.
During a shutdown in May 1994, about 8,000 fuel rods were removed. The North said it removed a further 8,000 rods during another closure that began in April 2005.
The 1994 defuelling triggered the first nuclear crisis with the United States. The Pentagon drew up plans to bomb the facility and the North went on a war footing.
Diplomacy involving former US president Jimmy Carter and others averted a clash and led to the eight-year shutdown.
The latest shutdown has stopped the North producing any more plutonium to swell its stockpile -- estimated by the Washington-based Institute for Science and International Security at 46-64 kilos (101-141 pounds).
Some 28-50 kilos of this is estimated to have been separated, enough for about five to 12 nuclear weapons, the institute said in February 2007.
The North conducted its first nuclear weapons test in October 2006.
Assessing the size of the remaining stockpile will be a key part of verifying the declaration.
According to a New York Times report, documents already handed over by the North acknowledge production of 37 kilos of plutonium.
This is less than the 40 to 50 kilos that US intelligence officials have calculated but more than the 30 kilos that Pyongyang originally admitted.