Unsmiling but with thousands of Pyongyang residents cheering him on, Democratic People's Republic of Korea 's leader Kim Jong-Il led a dramatic surprise welcome Tuesday for Republic of Korea's President Roh Moo-Hyun on his historic visit.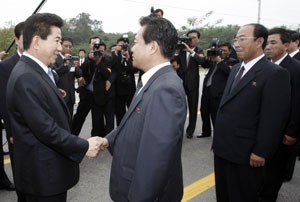 RoK's President Roh Moo-Hyun (L) is greeted by DPRK's officials after crossing the border line to North Korea in Paju, Oct. 2, 2007.
Hundreds of men in dark suits and women dressed in traditional hanbok gowns of light blue and violet had assembled in front of a red carpet to welcome Roh for a three-day summit.
Wearing his trademark brown military-style jumpsuit, his expression austere and his belly protruding, the DPRK's leader stood and waited to personally welcome Roh.
The doveish RoK's leader, a beaming smile on his face and wearing a bright blue tie, arrived standing in an open-topped black limousine next to DPRK's number two Kim Yong-Nam.
Roh and Kim Yong-Nam then headed onto the streets of Pyongyang in their open limousine. Thousands of people lined the streets, shouting "Long life" and "Unification of fatherland."
According to the original schedule Roh was supposed to be welcomed at another location by Kim Yong-Nam alone. Then the ceremony was switched to the April 25 House of Culture and the surprise guest appeared.
Kim Jong-Il similarly made a surprise appearance at the airport when Roh's predecessor Kim Dae-Jung arrived in 2000 for the first summit between the two countries.
Some of the guests this time jumped up and down and waved their flowers. Others craned their necks to see the two leaders.
But observers said the response was less rousing than in 2000, when some residents of the tightly controlled communist state broke down in tears of emotion.
"This is a good start as Kim showed up himself to greet Roh. However, the mood appears to be calmer than that of 2000," said Paik Hak-Soon, an analyst at the Seoul-based Sejong Institute.
Before crossing the yellow borderline into the North, Roh shook hands with hundreds of South korean well-wishers.
"I am now crossing this forbidden line as a president," a solemn Roh said in a nationally televised message just before stepping across.
"After I return home, many more people will do likewise. Then this line of division will finally be erased and the barrier will break down.
It is only the second summit ever between the two nations, which remain technically at war from the 1950-53 Korean War.