COPIAPO, Chile, Aug 29, 2010 (AFP) - Chilean rescuers will begin Monday the months-long task of drilling a shaft to rescue 33 miners trapped deep underground, as officials draft an accelerated rescue plan.
President Sebastian Pinera is reportedly pressuring rescuers to get the miners out before September 18, the bicentennial anniversary of Chile's independence from Spanish colonial rule.
"Plan B has already been designed," Health Minister Jaime Manalich said Saturday, noting details would be released soon.
Under current plans, an Australian-made hydraulic bore will drill a hole 66 centimeters (26 inches) wide to pull the miners out one at a time from the hot and damp shelter where they are huddled underground.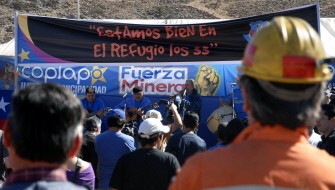 Chilean music group Inti Illimani performs during a show in support of the trapped miners, at the San Jose gold and copper mine in Copiapo, 800 km north of Santiago, on August 28, 2010. AFP
"The drilling machine is being installed... we expect to start working with it on Monday morning," the engineer in charge of the rescue operation, Andre Sougarret, told AFP on Saturday.
"The shaft we're drilling to the shelter will go down 702 meters (2,303 feet) in a straight line" to the trapped miners.
Sougarret said the drilling operation was expected to last three to four months, in line with previous estimates.
The hydraulic bore drills at a maximum rate of 20 meters (66 feet) per day. The initial narrow shaft it will dig will have to be doubled in diameter to allow a man to pass through, Sougarret explained.
Officials are also considering drilling where the main entrance ramp to the San Jose gold and silver mine collapsed on August 5, though some engineers fear the site remains unstable.
A third alternative being tabled suggests broadening an already existing shaft some 12 centimeters (5 inches) in diameter about 300 meters (985 feet) from the emergency shelter where the miners are confined.
According to Geotec, the company owning the drilling equipment, expanding that shaft could free the men in about 60 days, two whole months ahead of early estimates. The miners, who have access to several hundred meters (yards) of unblocked tunnel, can easily reach that rescue site.
"We can broaden the hole that is already there with the latest generation machines and using a wider diameter bore," Geotec manager Walter Herrera told reporters.
Herrera said government experts were studying his proposal.
But Mining Minister Laurence Golborne earlier rejected reports of an early rescue.
Golborne said Pinera asked him to look at all possible alternatives.
"We have reviewed 10 different options," he told Radio Cooperativa. "Up to now there is no alternative... that would allow us to get them out in 30 days."
Golborne said that while the Australian-made bore went to work, engineers would also be widening a third existing access shaft to the miners' shelter from 10.2 centimeters to 30.5 centimeters (four-12 inches) so bigger objects can be sent down to them.
He said once completed, engineers would consider the possibility of widening that access shaft even further to the point that the miners can be extracted.
Meanwhile, he added, on Sunday one of the miners will be allowed to talk with his family by telephone "for at least one minute."
Golborne said the trapped miners would also receive over the next few days audio-visual equipment including MP3s with speakers, a small video projector with a collection of soccer matches on DVDs, playing dice, and clothes.
He said special collapsable cots would also be lowered to the shelter to provide more comfortable sleeping arrangements for the workers.
Rescuers contacted the miners through a narrow shaft a week ago and have been sending them fresh water, messages and supplies ever since.
Most of the miners were shown in good spirits in a video they sent to their families at the surface on Thursday after their three-week ordeal, but a handful of them appeared to be struggling psychologically.
Yet Manalich said five depressed miners were doing much better after receiving food, vitamins and communicating with friends and relatives, who sent them a video recording earlier Saturday.
Chilean authorities have already taken steps to boost the men's mental resilience for the struggle that still lays ahead, notably by reaching out to organizations and individuals with experience in long isolation.
Four officials from the US space agency NASA were due to arrive Sunday or Monday in Chile to provide expertise, while submarine commanders in Chile's navy have already given advice.