GUADALAJARA, Mexico, Aug 10, 2009 (AFP) - US President Barack Obama joins leaders of Mexico and Canada Monday to plot counter-attacks against swine flu, vicious drugs cartels and economic blight at his debut North American summit.
Security forces swamped the western Mexican city of Guadalajara for the swift summit, where tactical adjustments rather than breakthroughs are expected against building threats to a diverse region of nearly 450 million people.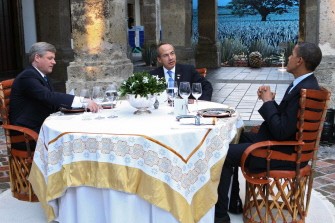 Handout photo released by the Mexican Presidency of (L-R) Canadian Prime Minister Stephen Harper, Mexican President Felipe Calderon and US President Barack Obama as they talk before dinner at the Cabanas Cultural Institure in Guadalajara on August 9, 2009, in the framework of the summit (AFP photo)
Obama, Mexican President Felipe Calderon and Canadian Prime Minister Stephen Harper are also hoping to explore common approaches to kick-start the global economy ahead of the G20 economic crisis summit in Pittsburgh next month.
"Our engagement with the Western Hemisphere is critical to advancing our national interests, and key for our security and economic well-being," said Obama's national security advisor James Jones.
Obama flew into mountainous western Mexico aboard Air Force One late Sunday and went into immediate talks with Calderon -- their third private encounter this year -- before the two men joined Harper for a closed dinner.
He expressed "strong support" for Calderon's crackdown against drugs gangs but also stressed the importance of human rights, following concern among US lawmakers at reports of widespread abuses by Mexican armed forces.
Monday's three-way summit, also likely to feature pressure by Canada and Mexico for vigilance by Obama against "Buy America" protectionist measures popular in Congress, will be followed by a closing press conference.
A dominant theme of the talks will be the rampaging violence, killings and drugs crime which has killed thousands of people in Mexico since 2008 and is infiltrating the criminal underworld in Canada and the United States.
The United States -- the world's top cocaine consumer -- has agreed to send Mexico 1.4 billion dollars worth of aid and equipment for the drugs wars, under the three-year Merida Initiative, which awaits full approval from Congress.
More drugs violence Sunday formed a bloody backdrop to the summit.
A lawyer known for her work defending suspected drug smugglers was killed in north Mexico after escaping four previous assassination attempts.
Raquenel Villanueva, 55, was gunned down by an unknown "commando" in the commercial center of Monterrey.
Drug cartels are believed responsible for 12 other murders since Saturday night in the dangerous US-Mexico border region -- including in Ciudad Juarez, where authorities discovered a male victim with his head and genitals severed.
Canada said Sunday that it would boost training by its Mounted Police for Mexican officers as part of a new, 15-million-dollar security program for the Americas.
Calderon, Obama and Harper were also set to discuss how to safeguard vital transport, border and commerce links against an expected spike in (A)H1N1 swine flu cases in the flu season in coming months.
"We want want to make sure that we do everything possible to ensure the continuation of commerce, transportation, and trade between and among the three countries," said John Brennan, Obama's deputy national security advisor for counter-terrorism and homeland security.
US trade with Canada is worth 1.5 billion dollars a day in goods and around 300,000 people cross the shared border every day.
The United States is crucial to Mexico's economy, having bought 82 percent of its neighbor's exports in 2007, according to US government figures.
Like the United States, Mexico is plumbing a deep recession, with much of its industry tied to the struggling US sectors, including cars and construction -- and migrant workers north of the border sending less money home.
Mexico is also seeking to resolve an immigration dispute with Canada over the recent imposition of visas for Mexicans, and a long-running trade dispute involving Mexican trucks operating in the United States, officials said here.
Mexico responded to the US cancellation of a program allowing some Mexican trucks on its territory -- in violation of NAFTA -- by slapping some 2.4 billion dollars in tariffs on 89 US products in March.
Other key issues on the Guadalajara agenda include the fight against global warming ahead of a key climate summit in December, the political crisis in Honduras following a military-backed coup, and US immigration policies.