Saudi stocks dropped 2.3 percent but then recovered slightly in early trading on Saturday as Dubai's troubles spread to the Gulf's largest equities market by capitalisation
In its first session since Dubai announced it would not guarantee the debts of the state-controlled Dubai World conglomerate, the Saudi market's main TASI index was at 6,270.58 at 0818 GMT, down from 6355.82 at its last closing on November 25.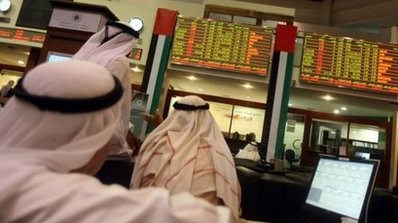 Investors follow the market at the Dubai Financial Market in the Gulf emirate December 1
Banking and finance stocks fell two percent percent despite central bank chief Mohammad al-Jasser's insistence on Friday that Saudi banks had only a small exposure to Dubai's problems.
"There is no danger to the banking system in the kingdom," said Jasser, governor of the Saudi Arabian Monetary Agency (SAMA).
"There is no danger that should force (investors) to run away from the market," he told Al-Arabiya television