Rodrigo Duterte was sworn in on June 30 as the 16th President of the Philippines for the next six years.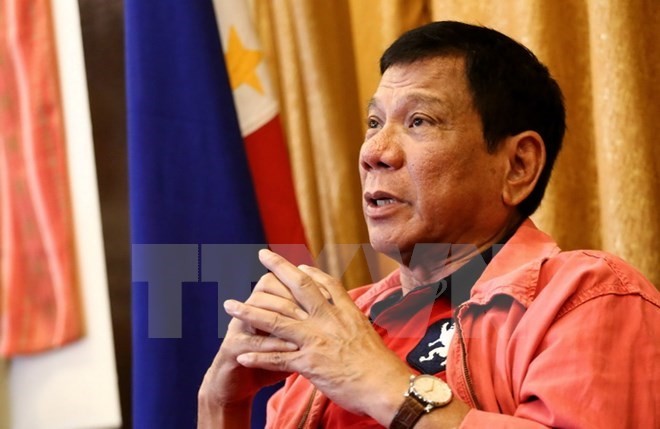 Rodrigo Duterte at a press conference in Davao city on May 26 (Photo: AFP/VNA)
In his swearing-in speech at Malacanang Palace in Manila, Duterte promised a "relentless" and "sustained" fight against criminality and corruption.
At the age of 71, he has become the oldest Philippine President and also the first to hail from Mindanao Island.
Before winning the presidential election on May 9, he had been mayor of Davao, the biggest city in Mindanao, for about two decades and famous for his toughness on crime.
In the election campaign, Duterte vowed to end crime within six months from when he would take office by reintroducing the death penalty, allowing security forces to kill criminals, and giving cash bonus to police officers who kill drug traffickers.
He also pledged to impose an evening curfew for children and a ban on late-night drinking.
Prior to Duterte's swearing-in ceremony, Leni Robredo, 52, took her oath as Vice President of the Philippines. She called for unity and promised to bring prosperity to Filipinos on the fringes of society.-