Early voter turnout in Japan's general elections Sunday was fractionally higher than at the same point four years ago, the government said after the first seven hours of voting.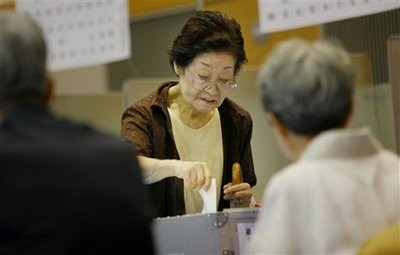 A woman casts her vote in Japan's parliamentary elections at a polling station in Tokyo, Japan, Sunday, Aug. 30, 2009. (AFP Photo)
By 2:00pm (0500 GMT), 35.19 percent of Japan's 103 million eligible voters had cast their ballots, up slightly on the 34.94 percent at the same time in the 2005 election, the ministry of internal affairs said.
The overall turnout for the 2005 election was considered high, at 67.51 percent, although it was below the post-war record of 76.99 percent in 1958.
Polling stations close at 8:00 pm with the first exit poll expected shortly afterwards.
Opinion polls have forecast a landslide win for the main opposition party, the centre-left Democratic Party of Japan, over Prime Minister Taro Aso's long-ruling conservative Liberal Democratic Party.
Braving muggy summer weather, a nearing typhoon and worries about swine flu, Japanese voters on Sunday headed for the polls in an election expected to shift Japan's political landscape.
"I think we need a change now," said pensioner Toshihiro Nakamura, 68, after voting at a Tokyo elementary school against Prime Minister Taro Aso's conservative party that has ruled Japan almost continuously since 1955.
"It's too long for a single party to dominate national politics," said Nakamura, echoing what polls have suggested is a widespread view among Japan's electorate of more than 103 million.
Voters packed into polling stations from 7am for an election in which the opposition Democratic Party of Japan (DPJ), led by Yukio Hatoyama, is seeking to snatch control from Aso's Liberal Democratic Party (LDP).
The DPJ is seen as likely to win an overwhelming majority of more than 300 seats in the 480-seat lower house of parliament.
"This is an election to say goodbye to the LDP," said Haruko Kurakata, 77, who said she voted for an opposition candidate, in part because she had grown tired of the country's recent revolving-door leadership.
"It's nonsense to see four prime ministers in four years without asking for the people's opinion," she said, referring to frequent changes at the top since popular former premier Junichiro Koizumi stepped down in 2006.
Voter turnout was expected to be high despite typhoon-triggered rough weather around Tokyo, hot summer temperatures elsewhere, and the government's recent warning that a "full-fledged epidemic" of swine flu had started.
Some voters wore face masks to guard against the virus blamed for seven deaths in Japan, while polling stations provided hand disinfectant.
"I decided to participate in a vote for the first time in my life, because I want to share in the feeling of bringing about a power change," said a 35-year-old Internet company owner in Tokyo.
"As a taxpayer, I want to see our taxes spent in a fair way, unlike the old-fashioned practice of dumping our money into public works that merely enrich local construction workers," he said.
The DPJ has promised better social welfare, which it says would help recession-hit families, boost domestic demand and raise the birth rate to reverse a projected decline of Japan's fast-greying population.
"I feel it's not bad to let the opposition try at least once," said Chie Miyamoto, a 25-year-old nurse. "I hope the next government will pay more attention to social problems, including a lack of workers at hospitals."
But other voters expressed skepticism that any real change would be achieved by the DPJ, a broad coalition spanning both LDP defectors and former socialists that has been internally split over key issues and has never held power.
"I'm afraid there may not be any change at all," said Masami Koike, a 54-year-old television production worker.
"The DPJ is in fact the shadow of the LDP as it was formed by former LDP lawmakers," said Koike, pointing out that key DPJ figures, including Hatoyama, were once members of the ruling party.
Takumi Aoki, a 25-year-old student, said: "I voted for a ruling coalition candidate because I don't think the DPJ will bring a real change. I think the party will be disbanded without achieving anything."