(Reuters-BRUSSELS) The European Commission formally approved on Thursday the introduction of anti-dumping duties on leather shoes imported from China and Viet Nam, a plan that has generated protests by both Asian countries.
"The European Commission has today adopted proposals by European Trade Commissioner Peter Mandelson to impose a provisional anti-dumping duty on leather shoes from China and Viet Nam," it said in a statement.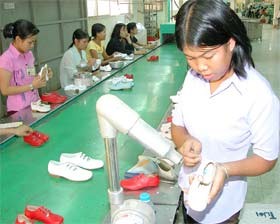 Workers of Shoes Que Bang Co. in Ho Chi Minh City make shoes to export to the US (Photo: SGGP)
Brussels has said it found evidence of state intervention helping shoemakers in China and Viet Nam and it will impose duties of 16.8 percent on shoes from Viet Nam and 19.4 percent from China to be phased in over five months from April 7. Sports shoes and footwear for children will be exempted from the duties.
China and Viet Nam have denied their shoe exports are being dumped in the European Union. China has said it might consider a complaint to the World Trade Organization, which regulates global trade.
Mandelson on Thursday reiterated his willingness to work with both countries "to address the questions of competitive distortions raised by the Commission's investigation", the statement said. The case also generated protests from some of the world's biggest shoemakers that have invested in factories in China and Viet Nam.

Related articles
Big Shake-up Needed for Viet Nam Footwear Industry
Women's Union Calls for EC Fairness for VN Shoes