Eurozone interest rates are set firmly on hold and any signs of change will probably show up first in the European Central Bank's exceptional loan support measures, analysts say.
"The ECB will leave interest rates on hold at 1.0 percent at its November policy meeting," Capital Economics economist Jennifer McKeown said on Friday. Bank policymakers convene on Thursday.
The rate has been at a record low since May and persistent concern over the strength of an anticipated eurozone economic recovery will keep it there for some time, experts say.
European business and consumer confidence is on the rise, having firmed in October for the seventh consecutive month, but ECB president Jean-Claude Trichet has stressed that a recovery would be "uneven."
The euro's rise in value against the dollar has stirred up a headwind for exports from eurozone countries, while domestic consumption remains fragile amid fears that unemployment could climb higher in 2010.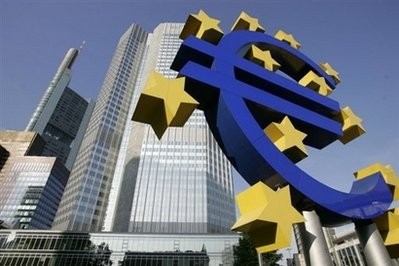 A giant symbol of the euro currency outside the European Central Bank in Frankfurt
The US Federal Reserve and the ECB "still harbour doubts about the pace of recovery and expect only lacklustre growth in the medium term," Commerzbank economists said in a research note.
But the ECB has also warned banks to brace for the end of "enhanced credit support," which expanded after the US investment bank Lehman Brothers collapsed in September 2008.
ECB governing council member Axel Weber, who is also the German central bank governor, commented last week that dependence on central bank funds was "certainly not a sustainable business model."
"Banks should prepare for the progressive withdrawal of medicine administered by central banks," Weber said.
The main feature of ECB support has been the supply of unlimited amounts of cash at its benchmark rate for periods of up to a year, aimed at keeping credit flowing through eurozone banks to the wider economy.
Reaching a peak in June with one-year loans of 442 billion euros (655 billion dollars) -- the largest volume of funds ever provided in a single step -- the policy has helped bring down interbank lending rates.
But banks have been slow to relay much of the credit to businesses and households, saying that demand has fallen as a result of the global downturn.
In September, eurozone lending to the private sector contracted for the first time on record, though an ECB bank lending survey showed later that banks could begin easing credit standards soon and that demand for home mortgages was firmer.
The economic think tank Ifo said Friday that the credit hurdle in Germany, the eurozone's largest economy, was slightly lower in October though large firms found it harder than smaller ones to secure loans.
As a first step in what is called an "exit strategy" for unorthodox measures, the ECB could announce that its next 12-month refinancing operation in December could be the last, and/or that it will begin to charge more than 1.0 percent for central bank funds.
But Weber implied that the policy of granting all requests for funds, also an exceptional measure, would likely be continued even after the length of time they are loaned for was cut back towards the previous maximum of three months.