NUSA DUA, Indonesia, April 15, 2009 (AFP) - People traffickers are licking their lips as the world economic downturn pushes more people to migrate in search of work, Australia's foreign minister told Asian ministers Wednesday.
Stephen Smith told a gathering of ministers and high-level officials from more than 60 countries, mostly from the Asia-Pacific region, that the patterns of illegal migration were changing and the region had to keep up.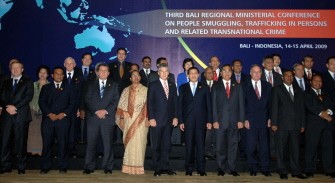 Australian foreign minister Stephen Smith (front row 5th L) with his Indonesian counterpart Hassan Wirajuda (front row 6th L) stand for a group photo during the Asia Pacific conference on people smuggling and the refugee rights of Myanmar's Muslim Rohingya minority at Nusa Dua on Bali island April 15, 2009 (AFP photo)
He also announced a new aid package for the Rohingya minority in Myanmar, hundreds of whom were set adrift in unseaworthy boats by the Thai military after illegally landing on Thai territory.
"The severe downturn in the world economy will push more migrants into the hands of people traffickers as they seek better lives abroad," he said in a speech at the so-called Bali Process on people smuggling, people trafficking and related transnational crime.
"There has been a significant shift since 2003 in the circumstances driving people smuggling and trafficking within our region.
"This includes the security situation in countries like Afghanistan and Sri Lanka and the Afghanistan-Pakistan border area."
Smith said he would discuss the Rohingya crisis which hit the region earlier this year with his counterparts from Indonesia, Myanmar and Thailand.
Hundreds of migrants from Myanmar's Rohingya Muslim minority were rescued in Indian and Indonesian waters between December and February after being abandoned at sea with few provisions by the Thai military.
Scores are feared to have died as they drifted in open wooden boats for weeks before being rescued.
Thailand denies violating their human rights but has admitted it towed the migrants out to sea.
Smith said Australia would provide 3.2 million dollars (US$2.3 million) in additional aid to the Rohingya people in Myanmar's northern Rakhine State to improve their living conditions and provide "better economic opportunities."
Australia's total aid for the Rohingya this financial year now stands at more than eight million dollars, he said.
"Australia is concerned about the deteriorating living conditions and increasing marginalisation of the Rohingya people in Burma and in refugee camps in Bangladesh," he said in a statement, referring to Myanmar by its former name.
"Their already parlous situation has been exacerbated by poor rice harvests, the rising price of basic food items and enforced restrictions on their movements."
Smith met Indonesian Foreign Minister Hassan Wirajuda in Bali Tuesday as part of bilateral talks on the first day of the regional meeting.
Wirajuda said the regional ministers owed it to the Rohingya migrants to discuss their plight.
"Obviously we will discuss the Rohingyas as this is a debt we haven't paid yet," he said.
"All parties including the country of origin, Myanmar, will discuss this problem together."
Indonesia has made no decision about what to do with hundreds of Rohingya men still being processed on Sumatra island, and has yet to determine whether they are economic migrants or asylum seekers, he said.
The migrants have told harrowing tales of persecution in Myanmar -- where they are denied citizenship rights -- and of abuse by the Thai military after they illegally landed their boats on Thai territory.
The two-day conference in Nusa Dua is being co-hosted by Indonesia and Australia, with Thailand in the steering group.
It is the third such meeting of the Bali Process, launched in 2002 to tackle the influx of illegal migrants into the region from Iraq, Iran and Afghanistan.