Tens of millions of people across China prepared to usher in the Lunar New Year Sunday with fireworks and big family reunions, but the global economic crisis put a dampener on celebrations.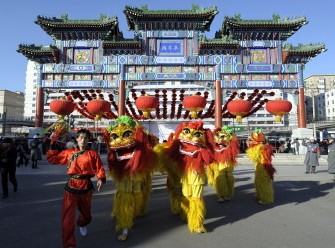 Artists perform a lion dance during the opening ceremony for the Ditan Temple Fair in Beijing on January 25, 2009. (AFP Photo)
Railways and planes worked full tilt over the weekend as people made last minute dashes home to welcome the Year of the Ox, which begins on Monday.
A record 188 million people were expected to travel by train and another 24 million to fly over the 40 days before and after the New Year, in what is regarded as the biggest annual movement of people in the world.
And while bad weather failed to disrupt the transport network like it did last year in China, the global economic crisis put a dampener on celebrations.
In a New Year speech, China's Premier Wen Jiabao warned of challenges in the year ahead, the official People's Daily newspaper reported Sunday, as the global economic crisis continued to impact the country.
"Taking a broad view of the situation abroad and domestically, challenges and opportunities exist," the newspaper quoted Wen as saying, and he reiterated the importance of economic policies such as increasing domestic consumption.
In Beijing's Ditan Park, which like many across the nation opened up Sunday for a fair where people came to buy festive treats, there were signs the crisis had taken its toll.
A multitude of red lanterns hung over alleys as thousands of visitors enjoyed the first day of the fair, but for pinwheel seller Zhu Sibai, business was slow.
Zhu, who lives in the poor, eastern province of Anhui, had travelled up to Beijing to sell his wares during the week-long fair -- a trip he had taken annually for five years.
"Last year, on the first morning like this one, I sold 1,000-yuan (145 dollars) worth of pinwheels but this morning, I've only sold 10-yuan worth," Zhu said.
Zhu was not the only worker preparing to usher in the Lunar New Year with a sense of gloom.
Around six million migrant workers had already returned to their rural homes around the country after losing their jobs due to the financial crisis, Ma Jiantang, head of the National Bureau of Statistics, indicated on Thursday.
According to Ma, around a quarter of the nation's 120 million workers had gone home.
Of these, 20 percent -- around six million -- had done so because the plant where they worked had closed down or halted production.
The retail and hospitality sectors were also expected to suffer during the holiday, as consumers tried to save money due to concerns over the economy and the number of Chinese New Year bonus payments fell.
By Sunday evening, however, families were expected to push economic woes to the back of their minds as they sat down to eat meals of dumplings, fish and meat, let off fireworks, and give out red envelopes containing money.
In Beijing, 93 roads were to close for half an hour on Sunday evening to allow residents to let off firecrackers.