Pounded by a fierce financial crisis, the country is sinking deeper into economic despair and is likely to be in the hole well into next year, forcing more Americans into the ranks of the unemployed.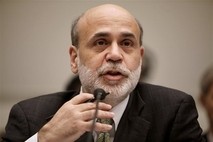 US Federal Reserves Chairman Ben Bernanke testifies on the Capitol Hill in Washington on Nov. 18, 2008.
The gloomy outlook from the Federal Reserve came as hopes dimmed that Congress could secure a fresh $25 billion rescue package for the tottering U.S. auto industry before lawmakers quit for the year.
With economic troubles cutting into customers' appetites, businesses will remain in a cost-cutting mode, keeping layoffs high.
Although economists predict a government report out Thursday will show that the number of newly laid-off workers filing applications for unemployment benefits last week dipped to 505,000, that figure would still point to an ailing jobs market, they say.
In the prior week, new applications filed for jobless benefits zoomed to 516,000, the most since right after the September 2001 terror attacks.
Despite a flurry of bold government actions, including $700 billion financial bailout package now being rolled out by the Treasury Department, financial and economic problems rage on.
Treasury Secretary Henry Paulson — who is overseeing the rescue effort — will deliver an assessment of the economy in a speech Thursday in Simi Valley, Calif.
Paulson's outlook comes one day after the Federal Reserve dramatically lowered its projections for economic activity this year and next, and signaled that additional interest rate reductions may be needed to revive the economy.
Given all the worrisome economic news, Wall Street nosedived. The Dow Jones industrials on Wednesday lost 427 points, or about 5 percent, at 7,997 — its lowest close since March 2003.
To cushion Americans from all the fallout, many economists believe the Fed will ratchet down its key interest rate — now at 1 percent — by one-quarter or one-half percentage point on Dec. 16, the last session of the year for its policy-making committee.
The economy will log little, if any, growth this year, and could jolt into reverse, according to various Fed projections released Wednesday. And, the frailty will extend into next year, the Fed said, where the economy could shrink or turn in subpar growth.
The economy "would remain very weak next year" and "the subsequent pace of recovery would be quite slow," the Fed said in its new economic projections. "The unemployment rate would increase substantially further."
The Fed projected that the national unemployment rate will rise to between 6.3 percent and 6.5 percent this year. That would be up sharply from last year's average rate of 4.6 percent.
For 2009, the Fed expects the jobless rate to climb to between 7.1 percent and 7.6 percent.
General Motors Corp. CEO Rick Wagoner, meanwhile, warned the House Financial Services Committee on Wednesday that the collapse of the U.S. auto industry could lead to a loss of 3 million jobs within the first year.
Top Senate Democrats suggested a bill to rescue Detroit's Big Three was stalled, and they challenged the Bush administration to act to save the industry if congressional efforts falter. The White House rebuffed the suggestion.
Senate Majority Leader Harry Reid of Nevada sought to lower expectations of reaching a deal on the $25 billion proposal before Congress quits for the year. Banking Committee Chairman Chris Dodd, D-Conn., called the possibility of reaching agreement "remote."
Meanwhile, with economic slowdowns both in the United States and overseas, inflation will moderate, the Fed predicted.
On that front, American consumers got a reprieve and saw prices actually fall by a record amount in October, just a few months after getting hammered by runaway costs.
The shift away from inflation worries to a possible bout of dropping prices, or "deflation," however, underscored just how quickly dangers faced by the economy can change in what many fear will be a painful recession.
For the average person, falling prices sure sounds like a good thing. But a prolonged and widespread price decline — which would drag down incomes, further clobber home and stock prices and shrivel corporate profits — would spell disaster for the economy. All that would make it harder for people and businesses to pay off debt.
America's last serious case of deflation occurred during the Great Depression of the 1930s. For now, economists think the chances are slim that the country will tip into a deflationary spiral. But they aren't ruling it out, either.
The Fed, in documents Wednesday, said "more aggressive easing" of interest rates "should reduce the odds of a deflationary outcome."
Once established, deflation is hard for Fed policymakers to break. That's partly because the Fed can lower its key rate only so far — to zero — to combat it.