The global economy is stabilising and the outlook is better than previously expected, leading central bankers said after a meeting on Monday.
"It's already known a number of projections have been slightly revised up, confirming that we probably are ... out of the period of freefall which had marked the last quarter of last year and the first quarter of this year," said Jean-Claude Trichet, speaking on behalf of the G10 top central bankers.
"That is something which seems to be confirmed at the global level -- stabilisation, better projections than previously anticipated," he added.
In recent weeks, a whole series of data has pointed to an overall improvement in the global economy but officials have been cautious, warning that any recovery remains fragile while unemployment is still rising.
Trichet noted that the central bankers from industrialised and emerging economies meeting at the Bank for International Settlements agreed that "we were observing a confirmation of some better indicators than previously anticipated."
However, the central bankers also urged "prudence."
"We have to remain prudent and cautious that it is not excluded that we will have a bumpy road ahead and that alertness remains of the essence," Trichet said.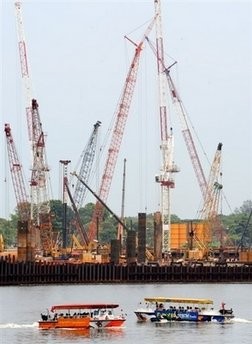 Tourist boats are seen sailing past under-construction casino and hotel buildings in Singapore
"We are not yet at the level of functioning of global finance that we can consider normal," he added.
Trichet, who is also president of the European Central Bank, cited complacency as a risk, noting that it is "extremely important that ... we are doing all what is necessary" to prevent a repeat of the crisis.
He also pointed to other risks, including protectionism, as well as imbalances -- domestic and external -- that plague the global economy.
"The domestic imbalances are reflected in terms of pure accounting by the external imbalances and the reverse," said Trichet.
"We are thinking of the rebalancing of domestic strategies that would permit precisely to reduce the level of these imbalances -- whether deficits or surpluses ... to be sure that we don't pave the way for further difficulties in the time ahead," he said.
Economists have repeatedly warned about the scale of the widening US budget and trade deficits, especially with China.
The White House has projected a 9.05-trillion-dollar deficit for the 2010-2019 period, a two trillion dollar increase from the February estimate made a month after Obama took office and confronted the worst economic slump in decades.
Analysts say such a gap can thwart long term economic growth.
Meanwhile, the politically sensitive gap with China, the second-largest US trade partner, swelled to 18.4 billion dollars from 17.5 billion dollars in May, hitting the highest level since January.
Critics have accused the Asian powerhouse of keeping its currency artificially low to gain a trade advantage.
Monday's meeting in Basel included the G10 group of central banks as well as others but officials declined to say how many or which ones took part.