CAIRO, Jan 28, 2011 (AFP) - Egypt's interior ministry warned of "decisive measures" as dissidents planned to rally after Friday noon prayers for a fourth day in a row in the country's most serious anti-government unrest in decades.
The warning came as internet services suffered disruptions and cell phone text messaging was down, both used by organisers of this week's protests that led to deadly clashes between police and demonstraters.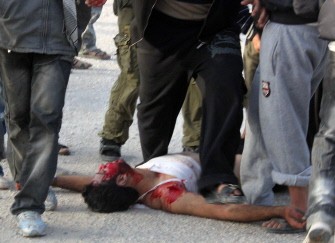 A bloodied protestor lies on the road after allegedly being fatally shot during clashes with anti-riot police in Sheikh Zuweid in the Sinai, some 344 km northeast of Cairo, on January 27, 2011. AFP
As the unrest continued, US President Barack Obama warned that violence was not the answer, urging restraint on both sides, and also pressing President Hosni Mubarak to adopt political reforms.
The country's largest opposition movement, the Muslim Brotherhood, said late Thursday that it would participate in Friday's protests, in a departure from the cautious approach it took towards the protests that started on Tuesday.
At least 20 members of the Muslim Brotherhood were arrested overnight Friday, its lawyer Abdelmoneim Abdel Maqsoud told AFP.
Among those arrested at their homes were five former members of parliament and five members of the political bureau, whose best known leaders are Essam El-Eriane and Mohammed Moursi.
The country's leading dissident, Nobel Laureate Mohamed ElBaradei, also said he would take part in the protests after arriving late Thursday from a visit to Vienna.
"It is a critical time in the life of Egypt. I have come to participate with the Egyptian people," ElBaradei, a vocal critic of Mubarak, said before leaving Cairo airport.
Earlier, in Vienna, he told reporters he was ready to "lead the transition" in Egypt if asked.
"I am still here hoping to continue to manage the process of change in an orderly way, in a peaceful way. I hope the regime will do the same."
But Egypt's interior ministry warned that it would take "decisive measures" against anti-government protesters.
The angry nationwide demonstrations have swelled into the largest uprising in three decades.
Seven people have been killed -- five protesters and two policemen -- and more than 100 injured.
And a security official told AFP around 1,000 people had been arrested since the protests began.
Human Rights Watch said eight demonstrators and a policeman had been killed in protests in Cairo, Suez, Alexandria and other cities. The US-based group said Egyptian police had escalated the use of force against largely peaceful demonstrations, calling it "wholly unacceptable and disproportionate."
A heavy security clampdown prevented protesters from massing in the centre of Cairo as they did on Tuesday and Wednesday, but clashes erupted in the cities of Suez and Ismailiya, and in a Sinai town where police shot dead a protester, witnesses said.
Internet users reported that they either could not access the web, or that services were very slow, while text messaging went down.
Earlier Thursday, members of the pro-democracy youth group April 6 Movement said they would continue to take to the streets, defying a ban on demonstrations announced on Wednesday.
Activists had circulated SMS messages and posted appeals on social networking site Facebook for fresh demonstrations "to demand the right to live with freedom and dignity."
The demonstrations against Mubarak's heavy-handed rule, inspired by the "Jasmine Revolution" in Tunisia, have sent shockwaves across the region and prompted Washington to prod its long-time ally on democratic reforms.
Obama, in his first on-camera reaction to the demonstrations sweeping Egypt, said "violence is not the answer in solving these problems in Egypt."
In a YouTube question-and-answer session about his State of the Union address on Tuesday, he said he had always made clear to Mubarak it was "absolutely critical" for him to move towards political reform.
Egypt is one of the United States' closest allies in the region, but analysts say Washington is growing increasingly concerned that its refusal to implement more political reforms could lead to unrest and instability.
Events on the street rocked Egypt's stock exchange, which suspended trading temporarily on Thursday after a drop of 6.2 percent in the benchmark EGX 30 index, a day after it fell six percent. The market closed with a drop of over 10 percent.
Meanwhile, the secretary general of the ruling National Democratic Party told reporters Thursday the authorities are open to dialogue with the country's young people, who are spearheading demonstrations.
"We have held several meetings with the youth, but in the future we will be more understanding in our approach so that they can be participants," Sawfat al-Sherif told a news conference.
Clashes broke out in the north Sinai town of Sheikh Zuwayed where witnesses and relatives said a youth died when he was shot in the head by police during a firefight.
In Suez, east of Cairo at the mouth of the Suez Canal, police fired rubber-coated bullets, tear gas and water cannon at hundreds of people gathered to demand the release of some 75 people arrested on Tuesday and Wednesday.
In Ismailiya to the north, witnesses reported that police were firing tear gas at demonstrators, who responded by throwing rocks.
Among protesters' demands are the departure of the interior minister, whose security forces have been accused of heavy-handedness, and an end to a decades-old state of emergency and a rise in minimum wages.