Egypt is to step up a controversial slaughter of the nation's 250,000 pigs, despite the World Health Organisation saying there was no evidence the animals were transmitting swine flu to humans.
Cairo governor Abdel Halim Wazir told the state news agency MENA that the government will begin slaughtering an estimated 60,000 pigs raised by rubbish collectors in a shanty town in Egypt's sprawling capital.
Egypt announced on Wednesday that it will slaughter the entire pig population after an outbreak of swine flu in other countries, even though no cases have been detected in Egypt.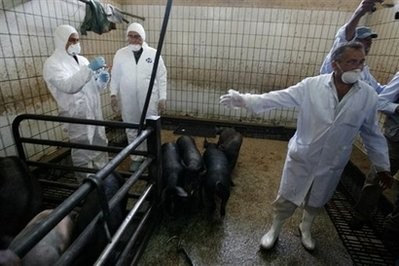 Egyptian vets take mucus samples from pigs in a Cairo slaughterhouse on April 30.
The move has been widely criticised, with the WHO saying there was no evidence that pigs were transmitting the virus to humans.
Egyptian officials have since said the slaughter was a general health measure.
"We're at stage five, the matter is now human not animal," health ministry spokesman Abdelrahman Shahine told AFP on Thursday, after the WHO ratcheted up its alarm level over the flu, now called "influenza A."
"The authorities took advantage of the situation to resolve the question of disorderly pig rearing in Egypt," he said.