CAIRO, Nov 21, 2011 (AFP) - Clashes between police and protesters in Cairo's Tahrir Square erupted for a third straight day on Monday after a night of deadly violence that left at least 13 people dead.
Police used tear gas sporadically through the night and into Monday morning against hundreds of protesters -- scattered in groups in and around Tahrir -- who responded with stones and rocks, according to live footage on state TV.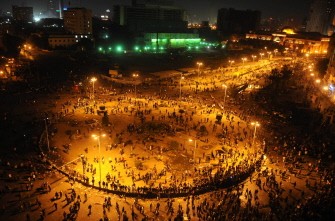 AFP - A general view shows Cairo's landmark Tahrir Square as Egyptian riot policeman try to disperse protesters on November 20, 2011.
On Sunday, police and military forces used batons, tear gas and birdshot to clear the central square of thousands of protesters demanding the ruling military cede power to a civilian authority.
Morgue officials said 13 people died on Sunday and two people on Saturday, sparking fears of disruptions to the November 28 legislative elections, the first since a popular uprising toppled Hosni Mubarak in February.
Protesters fear the army is intent on maintaining some degree of power through a set of supra constitutional principles it plans to impose on the next parliament, who will be tasked with drafting the country's charter.
Protests in Tahrir Square have been ongoing since a massive anti-military rally on Friday, which called on the army to cede power to civilian rule and return to barracks.
Demonstrators have been particularly vocal against Field Marshal Hussein Tantawi, Mubarak's longtime defence minister who now heads the ruling Supreme Council of the Armed Forces.