US allies in the Gulf were silent on Monday over embarrassing revelations by WikiLeaks about their extreme concern over Tehran's nuclear programme, to the point of even calling for an American attack on Iran.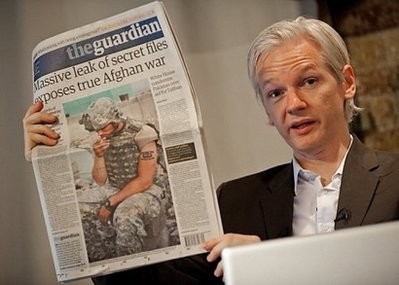 Australian founder of whistleblowing website 'WikiLeaks', Julian Assange, holds a copy of the Guardian newspaper during a press conference in London in July 2010.
The US documents released late on Sunday by the whistleblower website and its media partners showed Saudi Arabia was most forthright in calling for Washington to act militarily to thwart Iran's nuclear ambitions.
In one leaked diplomatic cable, King Abdullah was quoted by his ambassador in Washington as reminding the US embassy in Riyadh of "the King's frequent exhortations to the US to attack Iran and so put an end to its nuclear weapons programme."
"He told you to 'cut off the head of the snake'," Adel al-Jubeir told the US embassy two days after talks on April 17, 2008 with US ambassador to Iraq, Ryan Crocker, and US General David Petraeus, according to the State Department memo.
Saudi Arabia, while known to be nervous of Iran's alleged nuclear weapons ambitions, has not publicly called for Western military action against its powerful neighbour.
"The whole thing is very negative. It's not good for confidence-building," a Saudi government adviser who asked not to be identified told AFP.
Riyadh had been warned by Washington that documents would be leaked, but it was not known in advance exactly what would be revealed, he added.
Official Saudi government spokesmen were not immediately available.
King Abdullah is himself currently in New York, recovering from an operation on his spine.
No other nation in the oil-rich Gulf has yet reacted publicly to the US diplomatic cables showing what was stated in public was not necessarily what was said in private meetings with American officials.
Despite countries calling for a political resolution to the controversy over Iran's uranium enrichment project, the cables show that in addition to Riyadh, both Manama and Abu Dhabi suggested a radical solution may be necessary.
"There is disappointment from all US allies. This is supposed to be classified information. There is also embarrassment," said Saudi analyst Abdulaziz Sager, chairman of the Dubai-based Gulf Research Centre.
"The question is, how far do you trust the US and their secrecy after this misuse of information? They will take precautions in the future" in their relations with Washington, he said.
Among the more than a quarter of a million previously secret US cables is a document citing Bahrain's King Hamad as telling General Petraeus on November 1, 2009, that Iran's nuclear programme "must be stopped."
"The danger of letting it go on is greater than the danger of stopping it," the king added, according to the cable.
Sheikh Mohammad bin Zayed al-Nahayan, Abu Dhabi's crown prince and deputy chief of the UAE armed forces, was quoted as saying in a July 2009 meeting with US Treasury Secretary Timothy Geithner that "a near term conventional war with Iran" was "clearly preferable to the long term consequences of a nuclear armed Iran."
The revelations will wreck confidence between the United States and its Arab allies in the Gulf, according to Riad Kahwaji who heads the Institute for Near East & Gulf Military Analysis in Dubai.
"For Gulf countries, this shows that the United States is incapable of protecting its own documents, and that will have negative repercussions on their relations," he told AFP.
"I think that from now on the Gulf states will make any meeting with American officials conditional, demanding a guarantee that the discussion will remain secret."