The US and Australian embassies in Indonesia received bomb threats Tuesday as tensions rose ahead of the imminent execution of three Islamists convicted over the Bali bombings.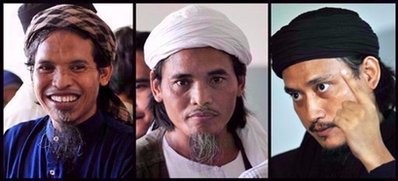 This combination picture shows photos of (left to right) Ali Ghufron, Imam Samudra and Amrozi in prison in Indonesia. The US and Australian embassies in Indonesia received bomb threats Tuesday amid a security crackdown ahead of the imminent execution of three Islamists convicted over the Bali bombings, police said.(AFP/File/Bay Ismoyo)
A US embassy spokesman said a threat had been received and was being taken seriously. "We are working closely with the Indonesian police," he said.
Police announced the all clear after searches of the heavily guarded embassy compounds failed to find any bombs.
The threat sent to police by text message reportedly said: "I have put TNT bombs around the US and Australian embassies. I will pull the trigger if Amrozi and his friends are executed," referring to the Bali bombers.
"We're investigating this to find out who sent the threat," police spokesman Abubakar Nataprawira said.
An Australian foreign affairs department spokesman said: "Threats of this nature are not unexpected under the circumstances."
Security has been boosted across the mainly Muslim archipelago amid fears of reprisal attacks by Islamic militants following the executions.
Amrozi, 47, his brother Mukhlas, 48, and Imam Samudra, 38, are expected to be executed by firing squad this week.
The 2002 attacks targeted nightspots packed with Western tourists, killing 202 people including 88 Australians and 38 Indonesians. The bombers said the attacks were revenge for US aggression in Afghanistan and Iraq.
Australia has warned citizens against travel to Indonesia, and the United States -- which lost seven nationals in the attack -- has warned Americans in the country to "maintain a low profile."
About 30 emotional supporters arrived at Mukhlas and Amrozi's home village of Tenggulun, east Java, around dawn Monday and denounced the executions as "murder" in emotional speeches at an Islamic boarding school.
"There are hundreds of us waiting to come... If Amrozi is executed a thousand more will come," said Abdulrahim, a member of the group led by radical cleric Abu Bakar Bashir.
Bashir is one of the founders of the Jemaah Islamiyah regional terror network, which is blamed for the Bali bombings and other attacks across Southeast Asia.
Other supporters wore balaclavas and gave shouted speeches vowing destruction for the United States, its regional ally Australia and Israel.
A brother of the condemned men, Jafar Shoddiq, made an emotional appeal for support from Muslims everywhere.
"All Muslims besides those who support us will come without being invited," he said, before shouting: "Raise your voice... raise your voice to prevent disaster from God."
Mujazzin Marzuki, a leader of Bashir's group, said: "We reject the executions, they are murder."
The bombers have failed with each of their appeals against the death sentence, including a last-minute petition filed on Monday.
Anti-death penalty campaigners have complained that the three men were convicted and sentenced under a 2003 anti-terror law that was applied retroactively.
Indonesians generally practise a moderate version of Islam but a fanatical fringe led by Jemaah Islamiyah has waged jihad, or holy war, for many years in a bid to bring about a regional Islamic caliphate.
The Bali attacks were the bloodiest in a sustained period of Al-Qaeda-inspired jihadist violence in the world's most populous Muslim country.
Bombings at the JW Marriott hotel in Jakarta in 2003, the Australian embassy in 2004 and Bali again in 2005, among others, killed scores of people.
The alleged mastermind of the Bali bombings and subsequent attacks, Malaysian extremist Noordin Mohammad Top, is still at large.