BEIRUT, Jan 27, 2010 (AFP) - Emergency crews Wednesday were closing in on the wreckage of an Ethiopian Airlines plane that crashed into the sea after takeoff from Beirut with 90 people on board, Lebanese officials said.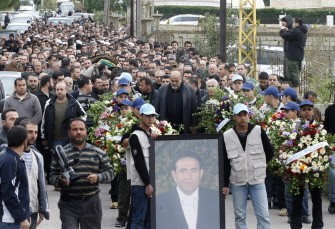 Lebanese mourners carry the body of businessman Hassan Tajeddine, who is one of the victims found at the crash site of the Ethiopian airliner on January 26, 2010. AFP photo
"The black boxes have not been localised but we have made enormous progress," an army spokesman told AFP, speaking on condition of anonymity.
"We are sounding the area where the plane went down and are making headway."
He said emergency crews had worked non-stop since the plane went down early Monday but bad weather and murky waters had hampered the search.
"The more the weather improves the more efficient the search," he said, noting sunny skies on Wednesday and a calm sea.
Transport Minister Ghazi Aridi also told AFP early Wednesday that he was optimistic and that rescuers and salvage crews were making headway.
"We are expecting results today," he said.
Ethiopian Airlines Flight 409 tumbled in a ball of fire into the Mediterranean early Monday just minutes after takeoff in stormy weather.
The Boeing 737-800 bound for Addis Ababa had 90 passengers and crew on board. All are presumed dead.
Lebanese officials have ruled out foul play and said the bad weather was likely to blame.
Officials are counting on the black boxes to provide answers on the tragedy, especially as to why the pilot of the ill-fated plane veered off course on takeoff.
Aridi and Defence Minister Elias Murr have said that the pilot, who had 20 years of experience and was familiar with the Boeing, had initially acknowledged control tower instructions before the jet suddenly went off in a different direction.
"He rogered instructions to go in one direction but then the plane deviated and when the control tower tried to reach him they lost contact," Aridi said.
Also Wednesday Ethiopian Foreign Minister Seyoun Misfin was meeting with Lebanese President Michel Sleiman, Prime Minister Saad Hariri and other officials to discuss the tragedy.