NEW YORK, July 18, 2010 (AFP) - Fast-growing Emirates Airline of Dubai will announce Monday it is ordering over 30 Boeing 777 jets, a month after it ordered 32 A380 superjumbo jetliners, The Wall Street Journal reported.
The catalog value of the latest transaction is estimated at more than seven billion dollars, the Journal said, citing a person familiar with the transaction. It said the order would be announced at the Farnborough International Airshow in Hampshire, England.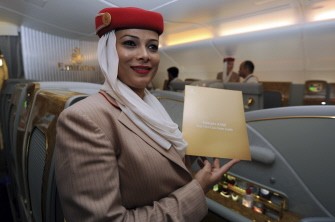 An air stewardess poses with a first class suite guide as she stands in the cabin of an Emirates A380 Airbus- the world's largest passenger aircraft - after touchdown at terminal T-3 of Indira Gandhi International Airport in New Delhi on July 15, 2010. AFP
Boeing Commercial Airplanes chief executive Jim Albaugh said his firm would let Emirates make the announcement.
"I can't tell you the kind of discussions that go on in the UAE relative to airplanes," he told reporters in London.
Last month's transaction for the A380s from Boeing rival Airbus, a division of European Aeronautic Defense and Space Co., was valued at 11.5 billion dollars. The unprecedented order was the first for the European superjumbo jets in about a year.
According to the Journal, Airbus and Boeing will likely also book large orders from General Electric Capital Aviation Services -- the airplane leasing arm of General Electric Co. -- and Air Lease Corp., a new venture set up by plane-leasing pioneer Steven Udvar-Hazy.