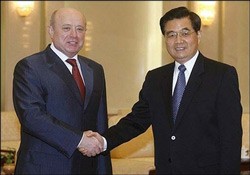 Chinese President Hu Jintao (R) receives visiting Russian Prime Minister Mikhail Fradkov (AFP Photo)
Energy topped the agenda as Russian Prime Minister Mikhail Fradkov met Chinese leaders here following a flurry of agreements ranging from oil exports to nuclear power.
Fradkov met President Hu Jintao and other officials a day after the two governments signed a series of agreements while businesses inked up to 800 million dollars worth of deals.
"I believe that your visit will deepen cooperation between the two countries and push forward our strategic partnership," Hu told Fradkov at the opening of talks.
Among the pacts, Russia's state energy provider RAO Unified Energy Systems Rossii and the State Electric Grid Corporation of China signed a contract for the future purchase of Russian electricity.
Under the agreement, Russian electricity exports to China could grow to 60 billion kilowatt hours (kWh) per year but would begin with up to 4.3 billion kWh delivered annually during a first phase from 2008 to 2010, the China Daily reported.
Russian hydro-power will make up the initial supply, while later phases of the agreement calls for a series of coal-fired power plants to be built along the two nation's common border, reports said.
China's booming economy is forcing the country into a global search for energy resources to secure its future growth, with Russia a key player with its massive oil and gas reserves.
On Thursday, Fradkov and his Chinese counterpart Wen Jiabao also oversaw the signing of an agreement on strategic cooperation between Russian oil giant Rosneft and China's state-owned petrochemical corporation Sinopec.
No details of the arrangement were made public but Rosneft concluded a deal with Sinopec earlier this year that will give it a 51 percent stake in the oil producer Udmurtneft.
Rosneft also announced Friday a joint venture deal with the China National Petroleum Company to set up Vostok Energy Ltd which will conduct exploration in Russia, the company said.
According to the Russian news agency RIA Novosti, Russia will deliver a total of 11 million tons (about 81 million barrels) of oil to China via the East Siberian railway in 2006, and hopes to increase the annual volume to 219 million barrels once a Siberian pipeline is completed.
Russian Deputy Premier Aleksandr Zhukov said earlier this week that Russia would deliver 30 million tons of oil annually to China in a branch pipeline which will be part of the Siberian oil pipeline project.
Another 50 million tons of oil would annually flow to the pipeline terminus on Russia's western seacoast, he said.
Also signed was an agreement between the Russian Federal Agency of Atomic Energy and the Chinese Committee on Defence Science, Technology and Defence Industry on cooperation in the peaceful use of nuclear energy.
Zhukov said Russia was eager to deepen cooperation in nuclear energy after the second reactor at the Russian-built Tianwan nuclear power plant in eastern China's Jiangsu province goes into commercial operation early next year.
During talks with Chinese State Councillor Wu Yi this week, both sides reiterated their previous goals of reaching 60 billion dollars in bilateral trade by 2010 and realizing 12 billion dollars of Chinese investment in Russia by 2020, Zhukov said.
"Record high growth rates are the most obvious matter in trade and business relations between Russia and China," he said.
"The nations should be proud that bilateral trade soared 37.1 percent to 29.1 billion dollars in 2005."