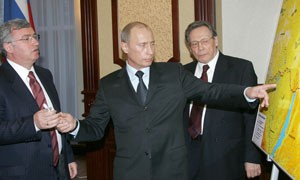 Russian President Vladimir Putin (C) points at a map of the region of the Lake Baikal in Siberia as discuss new oil pipeline (AFP Photo)
"The route will be to the north of that zone," Mr. Putin was shown on state television saying, as he stood before a map of the region and drew arrows pointing north away from Lake Baikal, signifying the route of the new pipeline.
Speaking during a meeting with local officials in the central Siberian city of Tomsk, Mr. Putin said he approved of a plan that calls for the route of the strategic pipeline to be moved to at least 40 kilometers (25 miles) north of Lake Baikal.
"In this way we are significantly reducing the ecological risks before construction begins," Putin said, adding: "We can consider this agreement final."
Russia's state-owned oil pipeline concern, Transneft, had planned to build the new pipeline, a major strategic project, on a route that would run for a stretch 800 metres (yards) from the northern shores of Lake Baikal, taking advantage of an existing railway route.
But the region is notoriously prone to earthquakes and environmental activists -- joined recently by local and regional officials -- have protested that the pipeline posed a major threat to what is one of the largest and purest lakes on Earth.
Russian environmental groups were elated at Putin's decision.
"We consider this a great victory," said Andrei Petrov of the Greepeace environmental group.
"There were demonstrations in several Russian cities against this project and this proves that, for once, society expressed its demands and they were heard.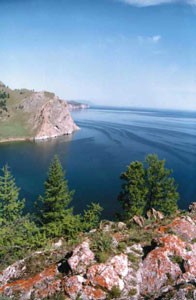 Lake Baikal in Siberia
"Putin's decision is a good sign for the future environmental situation. It is the first time that such a positive environmental decision has been taken in a long time," Petrov told AFP.
The pipeline is a central element of Russian strategic plans to supply energy-hungry markets in the Asia-Pacific region with oil from huge fields in Siberia, plans that also envisage construction of new pipelines for shipping Russian natural gas to the region.
Last Friday, some 500 people rallied in Moscow in the latest protests against Transneft's route near Lake Baikal.
In addition to its purity -- or because of it -- Lake Baikal is home to a range of unique flora and fauna, including the world's only freshwater seal.
In an interview published Wednesday in the liberal daily Nezavisimaya Gazeta, the head of Transneft, Semyon Vainshtok, said the cost of building the pipeline would grow by around 900 million dollars if the planned pipeline were shifted from near the lake to a route further north.
Vainshtok said the project was not practical because there were high mountains and no transport infrastructure in the region further to the north of Lake Baikal.
Source: AFP