TALLINN (AFP) – Estonia adopted the European single currency at midnight, ringing in 2011 as the 17th member of the eurozone, a bloc threatened by bailouts in Greece and Ireland and debt woes in Portugal and Spain.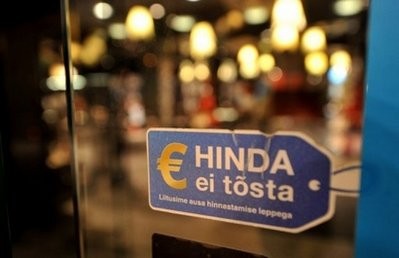 AFP - A label reads 'The Euro will not increase prices' on a shop door in Tallinn
As a spectacular fireworks show lit up the sky over Tallinn, the 2004 Baltic EU entrant of 1.3 million which broke free from the Soviet Union in 1991.
While the centre-right government of Prime Minister Andrus Ansip has championed the switch to the euro as economic good sense despite the eurozone's turmoil, replacing Estonia's highly symbolic kroon has received a muted welcome among average Estonians.
"Estonia is the poorest country in the eurozone, so we have a lot of things to do also now after the goal of reaching the eurozone has been accomplished," Ansip said hailing the historic moment.
Joblessness shot up to nearly 20 percent this year as Estonia's economy struggled to recover from a recession that saw GDP shrink by some 14 percent last year. GDP is expected to expand by 2.5 percent this year and 4.2 percent in 2011, according to Estonia's central bank.
Ansip symbolically withdrew a new banknote from an automated bank teller at official ceremonies ushering in the euro at the national opera house as onlookers braved subzero temperatures.
"That's one small step for the eurozone and one giant leap for Estonia," Ansip said. "We are now a full member of the second biggest financial region in the world, with all of the advantages and obligations it brings," he added.
"Estonia's entry means that over 330 million Europeans now carry euro notes and coins in their pockets," European Commission President Jose Manuel Barroso said in a Friday statement ahead of the official midnight switch.
Most surveys put support for Estonia's entry into the crisis-hit eurozone at around 50 percent, with almost 40 percent opposed.
Opponents say that Estonia's timing could not be worse with the euro under threat after bailouts in Greece and Ireland and concerns about Portugal and Spain.
A recent opinion poll in eurozone heavyweight Germany found meanwhile that 49 percent of respondents wanted the deutschmark back.
But Ansip's government has long insisted adopting the euro is an important signal to investors and will be a boon for businesses as 80 percent of Estonia's trade is within the 27-nation European Union.
"Estonia! Welcome to the Titanic," read posters plastered near the opera house by critics of the currency switch.
"Estonia is like a passenger that got the last ticket for the Titanic," said Anti Poolamets, the eurosceptic head of the "Save the Kroon" campaign.
Pollsters also flag up concerns over price hikes and simple nostalgia for the kroon.
For the last 19 years it carried much more than just monetary value for Estonians and was seen as a tangible sign of the success of the country's patient post-war struggle for independence from the Soviet Union and came to symbolise national sovereignty.
"Estonians are very emotional, nobody really wishes to say goodbye to kroons and it is a sad moment for me also," Estonia's Finance Minister Jurgen Ligi told reporters.
However bidding the kroon farewell was the "only way to join the eurozone," he said.
"When we switched from rubles to our own kroon currency, I cried like most Estonians that day. There are no such emotions now, just a neutral feeling," Sirje Kaart, 46, told AFP as she withdrew her first euro banknote in central Tallinn after the switch.
Estonian President Toomas Hendrik Ilves meanwhile highlighted the symbolism of becoming the eurozone's third ex-communist member, after Slovenia in 2007 and Slovakia in 2009.
"Joining the eurozone in January 2011 will mean arriving in Europe again," Ilves told AFP.
Estonia entered the EU and NATO in 2004, and Europe's passport-free Schengen zone in 2007.
The kroon has been pegged to foreign currencies from the start, first to the deutschmark and then, in 2002, to the then newborn euro. The rate of 15.6466 kroons to one euro has never changed.
To avoid a frenzy, customers have been able to swap kroons for euros commission-free since December 1, and will be able to use them alongside the euro for the first two weeks of January.
Money deposited in accounts was automatically converted.
Kroons will be exchangeable at selected bank branches until the end of 2011, and at Estonia's central bank for an unlimited period.