The estranged husband of Samsung heiress Lee Boo-jin is suing her for a W1.2 trillion share of her assets (US$1=W1,165), source from Chosun.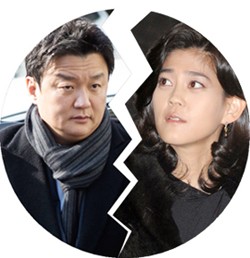 Im Woo jae (left)
According to legal sources on Wednesday, Im Woo-jae, now relegated to an advisor at the minor subsidiary Samsung Electro-Mechanics, also filed a lawsuit with the Seoul Family Court seeking a divorce and alimony of W10 million.
In January a court accepted a divorce claim filed by his wife and awarded her custody of their son, who is in elementary school. Im was given visitation rights once a month but appealed ruling.
Under the Korean law, a spouse who seeks wealth division is required to file a divorce petition as well.
The W1.2 trillion Im is seeking marks a record marital asset claim in Korea.
Im's lawyer said Lee's total assets are estimated at around W2.5 trillion. According to conglomerate tracker Chaebul.com, her stock holdings alone were worth W1.72 trillion as of June.
Im has long insisted that he does not want a divorce and is not interested in her money. But legal sources projected that he would eventually seek a share of her assets.
Asked about the reason for the U-turn, Im's lawyer said, "There was a major change of heart, but I can't go into details right now."
Legal sources believe that the prosaic cause was new rules on asset division cases that became effective on July 1.
Until then the processing fee for asset-division lawsuits between divorcing couples was a flat rate of W10,000. But now it increases in proportion to the amount being sought. In other words Im would have to pay W2.1 billion in processing fees if he seeks W1.2 trillion in property.
Instead he filed his lawsuit at the end of June just before the new regulations kicked in.
The final decision will depend on how Lee accumulated her wealth and what role her ex-husband played in amassing the fortune, though it may be difficult to apply conventional standards to a man who was carefully groomed as the son-in-law to the Samsung chairman.