The Basque separatist group ETA Sunday reaffirmed its use of violence to achieve its aims, after completing a period of "internal reflection," but said it remained open to a political solution.
"We reaffirm our commitment to continue with arms in our hands while our enemies opt for repression and denial," ETA said in a statement released in the pro-independence Basque newspaper Gara.
ETA, which marked its 50th anniversary in July, is blamed for the deaths of 828 people in its campaign for an independent Basque homeland in parts of northern Spain and southwestern France.
"But at the same time we say that ETA's desire has always been to find a political solution to the political conflict", the statement said, noting the organisation's "desire and total readiness to take that path."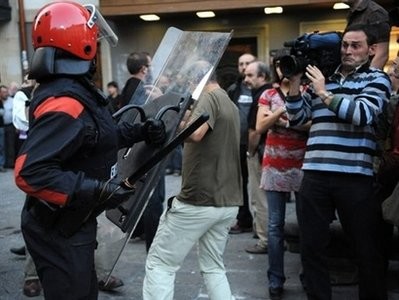 A man (C) is pushed by a member of the Basque regional police in the northern Spanish Basque city of Mondragon.
ETA said it had reached the conclusions after completing "a process of internal reflection," Gara reported.
The group had warned last May that it was planning a new and "effective political-armed strategy" after a period of "reflection" this summer and which "leaves open the possibility of dialogue and negotiation."
In mid-2007 ETA called off a 15-month-old truce following a deadlock in tentative peace talks with the Spain's central government in Madrid.
Since then Prime Minister Jose Luis Rodriguez Zapatero's Socialist government has taken a hard line, repeatedly ruling out new negotiations, while a string of operations by Spanish and French police have weakened ETA's leadership.
In its statement in Gara, ETA also confirmed that it was not behind another statement attributed to it by an independent Basque newspaper Berria and released on Saturday.