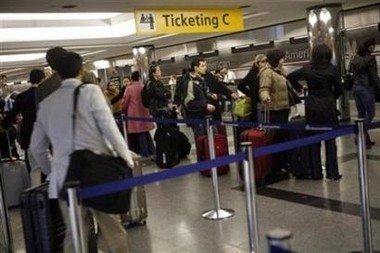 A file photo of travelers queuing to check in at LaGuardia International Airport in New York April 15, 2007.
The European Union sealed Thursday an agreement on how to transfer personal information about passengers flying to the United States for use in Washington's "war on terror", an EU official said.
The agreement was reached by EU ambassadors and is to be rubber stamped by the bloc's foreign ministers in Brussels on Monday.
It would provide the US Department of Homeland Security (DHS) with 19 categories of data about air travellers which the DHS could keep for 15 years and share with other law enforcement agencies under certain conditions.
The deal ends more than a year of transatlantic legal wrangling over information which could be taken from tens of thousands of passengers each day, a process that has raised deep privacy concerns in Europe.
The EU reached an "understanding" on elements of the deal late last month but certain "reservations" had to be reviewed by some of the bloc's 27 member states who are obliged to pass the accord through their national parliaments.