EU Agriculture Commissioner Mariann Fischer Boel announced Monday that she would release 280 million euros (418 million dollars) in aid for Europe's ailing dairy farmers.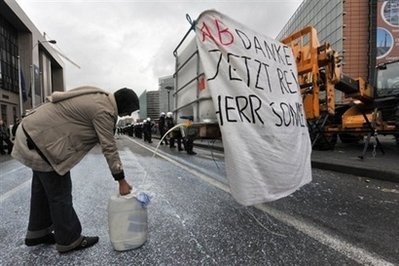 A man gathers milk during a protest by European dairy farmers demonstrating against falling milk prices on October 5 in Brussels. (AFP Photo)
"I'll empty my pocket, and I have 280 million euros for the farmers," she said, at European Union farm talks in Luxembourg.
"That's (all) I have. I don't have a special account in Switzerland or anywhere else," she told reporters.
Her announcement came after 21 of the EU's 27 nations, including France and Germany, called for the aid, which will be drawn from the bloc's 2010 budget.
Last November, EU agriculture ministers agreed to lift milk production quotas by one percent per year before scrapping them altogether in 2014-2015.
But in recent months, European farmers have ramped up protests in search of EU support through financial aid or by limiting supplies, as dairy product prices collapsed due to low demand caused by the financial and economic crisis.
Since 2007, milk prices have in the worst cases halved.
But while the commission, the EU's executive arm, has agreed to introduce targeted aid to the sector, it has refused to go back on its decision to scrap the quota system