The European Union on Friday adopted a ban on crude oil imports from Syria as ministers from the 27-nation bloc looked to tighten the screws on the Assad regime at a gathering in Poland.
The sanctions "will go straight to the heart of the regime", said Dutch Foreign Minister Uri Rosenthal.
The oil embargo, to take effect from Saturday, will deprive Assad's regime of a vital source of cash. The EU buys 95 percent of Syria's crude oil, providing a third of the regime's hard currency earnings.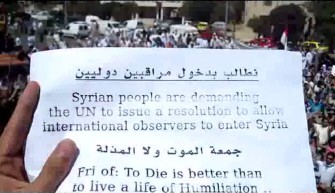 An image grab from footage uploaded on YouTube shows a Syrian anti-government protester holding up a sign calling for UN intervention in Syria during a protest in the central flashpoint city of Homs on September 2, 2011 to stop the regime's bloody crackdown on the opposition
Though the loss of the oil will be little felt across the European Union, where Syrian crude accounts for a mere 1.5 percent of the bloc's imports, Syria has already warned it will find buyers elsewhere.
"We can resolve our problems with the help of China," central bank chief Adib Mayaleh told AFP in an interview last week. "If the Europeans withdraw the Chinese can easily take their place and fill the vacuum. Russia too can help us."
While further action to squeeze Damascus was not on the official agenda of the ministers' two-day talks, EU foreign policy chief Catherine Ashton pledged there would be no let-up in efforts to press Assad to end the regime's relentless repression.
"We have been looking at what more we can do," Ashton said on arriving for the talks. "That is a conversation that keeps going on ... a conversation on what more can be done."
New sanctions could include a ban on investments in the oil sector, diplomats said.
"Right now it is crucial that we isolate the regime," said German Foreign Minister Guido Westerwelle, who has been under sharp pressure at home for favouring sanctions over military intervention in Libya.
Westerwelle insisted sanctions would work to force the Assad regime to start a dialogue with dissenters but that the EU needed to work hand-in-glove with regional partners, notably Turkey.
The sanctions, added Sweden's Foreign Minister Carl Bildt, "will truly bite".
"We are serious," he said on Twitter.
The EU on Friday also expanded a list of around 50 people -- including Assad himself -- targeted by an assets freeze and travel ban, adding four Syrian businessmen accused of bankrolling the regime, diplomats said.
And three firms, including a bank, were added to an existing blacklist of eight Syrian and Iranian firms. The identities of the new targets will be released Saturday in the EU's Official Journal.
"The prohibition concerns purchase, import and transport of oil and other petroleum products from Syria. No financial or insurance services may be provided for such transactions," an EU statement said.
Syrian crude oil exports, a key contributor to government revenue, are purchased mainly in the EU by Denmark, Italy, France, the Netherlands, Austria and Spain, in that order.
The move to tighten the screws on Assad's regime comes as major European powers ratchet up support for Syrian dissenters, with one diplomatic source saying some EU members "may be considering a Libya-style intervention".
France said Friday it planned to boost its contacts with the opposition in Syria to try and bring an end to the bloody crackdown on anti-regime protests.
"We will develop our contacts with the opposition," Foreign Minister Alain Juppe said, without elaborating. "We will not let up on our efforts to bring an end to the repression and to secure a democratic dialogue."
In Spain, Prime Minister Jose Luis Rodriguez Zapatero too urged the international community to support Syrians protesters following the success of UN-backed action in Libya.
"This example should extend to other countries like Syria (where people are) fighting for freedom," he said.
Assad's regime has defied Western sanctions over its deadly crackdown on dissent, blaming "armed terrorist gangs" for the violence.
The United Nations says that more than 2,200 people have been killed since the beginning of near-daily protests across the country against Assad's regime in mid-March.