European Union nations agreed Monday to extend visa-free travel to Serbia, Macedonia and Montenegro, but kept visa requirements in place for citizens from Albania and Bosnia.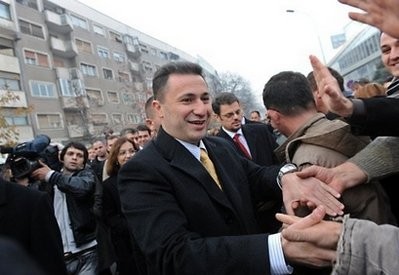 Macedonian Prime Minister Nikola Gruevski (C) meets citizens to celebrate the elimination of the Schengen visa barrier with EU countries in the centre of the capitol Skopje. (AFP Photo)
"I strongly welcome this decision, which is an important step in the process of rapprochement with these countries," French Immigration Minister Eric Besson told reporters, after EU interior ministers had endorsed the move.
"The removal of visa requirements for Serbia, Montenegro and the former Yugoslav republic of Macedonia will take place on December 19, 2009," he added.
EU Enlargement Commissioner Olli Rehn hailed the move as "a big day for the citizens of these countries," adding that the visa-free access will also be granted to "citizens of the other Eastern Balkan countries once they meet all the conditions."
Serb President Boris Tadic, standing next to Rehn at a joint press conference after the decision, hailed the move as a concrete step towards eventual EU membership.
Welcoming the decision he also said it marked a return to the status quo ante. Balkan citizens rejoice after EU scraps visas
"Twenty years ago we didn't need the visas and today we are returning back to that position," he said.
Besson said he encouraged his EU counterparts "to continue this process with all western Balkans nations, notably Bosnia and Hercegovina and Albania, once the European Commission has completed its road map" for those countries.
He also expressed hope that a similar process could be launched for Kosovo, which declared independence from Serbia in February 2008.
The European Commission, the EU executive arm, recommended in July that travellers from Serbia, Macedonia and Montenegro be exempted from visas from January 2010 in the 25-nation Schengen open borders zone.
Macedonia is considered best prepared in the region for visa-free travel, having met criteria for document security, illegal immigration, public order, external relations and basic rights.
Macedonia has been an official candidate to join the EU since 2005.
The visa move has been eagerly awaited by the citizens of Serbia, the largest of the three ex-Yugoslav republic's with 7.5 million people, but some feared it could ignite tensions in Bosnia.
Ethnic Serbs there can hold two passports.
The EU failed to prevent the bloody breakup of the former Yugoslavia in the 1990s but the prospect of EU membership has encouraged reform and the bloc often makes such gestures to reassure Balkans nations about their future.
In a gesture to Serbia last year, the EU eased visa restrictions for some Serbs, making them cheaper and easier to obtain for students, athletes, journalists, and people visiting family or working with companies in the bloc.
Belgrade's EU membership hopes remain held up by the Netherlands because Bosnian Serb genocide suspect Ratko Mladic remains on the run, most likely in Serbia.