EU antitrust regulators fined US chip giant Intel a record 1.06 billion euros (1.45 billion dollars) on Wednesday, claiming it abused its stranglehold on the semiconductor market to crush its main rival.
The company hit back, saying it would fight the ruling with an appeal in EU courts, raising the spectre of a new antitrust saga between Brussels and a US technology giant after Microsoft's years of European legal battles.
The European Commission, Europe's top competition watchdog, accused Intel of using illegal loyalty rebates to squeeze rivals out of the market for central processing units (CPUs) -- the brains inside personal computers.
The Santa Clara, California-based company dominated the 22-billion-euro (30-billion-dollar) market for the ubiquitous x86 CPUs with a 70-percent share during the more than five years it was accused of breaking EU antitrust rules.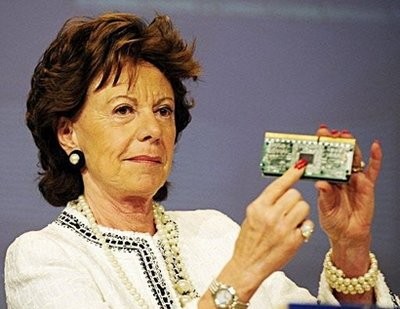 European competition commissioner Neelie Kroes shows an Intel processor during a press conference at EU headquarters in Brussels
"Intel has harmed millions of European consumers by deliberately acting to keep competitors out of the market for computer chips for many years," EU Competition Commissioner Neelie Kroes said.
"Such a serious and sustained violation of the EU's antitrust rules cannot be tolerated," she added.
The commission said Intel had used wholly or partially hidden rebates to get PC makers such as Acer, Dell, HP, Lenovo and NEC to buy all or almost all their CPU supplies from Intel instead of US rival Advanced Micro Devices (AMD).
"Naturally, the commission favours strong, vigorous price competition, including by dominant firms," Kroes told reporters in Brussels.
"However, Intel went beyond normal price competition by giving rebates to computer manufacturers on the condition that they bought all, or almost all, of their CPUs from Intel."
Intel general counsel Bruce Sewell defended the rebates, arguing that computer makers approach the company seeking reductions and stressing that "there is no evidence that we were pricing below cost."
EU antitrust regulators also accused Intel of paying computer manufacturers to halt or put off the launch of products containing microchips competing with Intel's x86.
In addition, Intel allegedly paid a major electronic retailer, chain store MediaMarkt, to stock computers equipped with its chips.
The commission ordered Intel to cease any of the ongoing practices which it deemed to break EU rules.
Intel did not hesitate in challenging the commission's ruling.
"We believe the decision is wrong and ignores the reality of a highly competitive microprocessor marketplace," Intel president and chief executive Paul Otellini said.
"There has been absolutely zero harm to consumers. Intel will appeal," he said.
Intel's fine topped the previous record 899 million euros Microsoft was ordered to pay last year for failing to cooperate with the European Commission in its antitrust battles with the US software giant.
Microsoft has moreover accumulated a total fines of 1.68 billion euros and its antitrust struggle with Brussels is still ongoing.
EU regulators have been investigating Intel since it received complaints from AMD in 2000 and filed formal antitrust charges against the company in July 2007 and then again in July 2008.
"Today's ruling is an important step toward establishing a truly competitive market," AMD president and chief executive Dirk Meyer said in a statement.
"AMD has consistently been a technology innovation leader and we are looking forward to the move from a world in which Intel ruled, to one which is ruled by customers."
The Computer and Communications Industry Association (CCIA) said the ruling against Intel was "not a great surprise since it follows similar decisions by Japanese and Korean competition authorities in recent years."
The CCIA added that the Intel decision in Europe could be followed by US action, especially after the Obama administration this week pledged to step up antitrust enforcement.
"A convincing picture has emerged revealing that Intel's actions were unquestionably strategically premeditated to be anti-competitive and willfully illegal," said CCIA president Ed Black.
"A vigorous US investigation focused on the evidence in the case leaves us believing Intel will have its day of reckoning in the US as well," he added.
In Europe, the commission fines could be only the beginning of Intel's problems, with the BEUC European consumer-protection association calling for a class action suit against the company to seek compensation.
"Consumers have been paying too much for their computers and they should be compensated," BEUC director general Monique Goyens said, welcoming the commission's ruling.