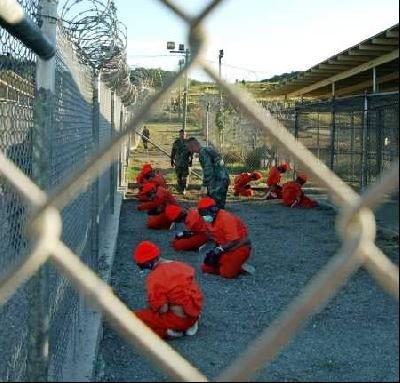 The US's Guantanamo prison in the Cuban territory has been criticized because of holding prisoners without trial.
A Swiss senator who submitted a report to the Council of Europe on secret CIA prisons came under fire from members of the European Parliament Tuesday for making un-sourced allegations.
Dick Marty, a trained lawyer, conducted an 18-month probe on behalf of the council and released a report last month that accused 14 European countries of complicity with the CIA in rights abuses, and of detaining terrorism suspects in secret jails.
The report, which relied on un-named intelligence sources, singled out Poland's Marek Siwiec, who previously oversaw the country's military intelligence, and Romanian EU parliamentarian Ioan Mircea Pascu, who formerly served as defense minister. Siwec has threatened a libel suit against the Swiss lawmaker.
Marty had stated in the report that in 2003-2005, the then-presidents of Poland and Romania were fully aware of the CIA's clandestine jails, where he said prisoners were typically shackled, isolated, and subjected to humiliating treatment.
The senator responded to criticism by saying that the information his committee had gathered was of a confidential nature, and that many European countries had refused to cooperate with investigators on the issue.
Claudio Fava, an Italian socialist MEP and the author of a special report to the EU Parliament, pointed to Italy's role in the alleged rights abuses.
He told a news conference in Brussels: "We have exposed 14 European governments, which helped the United States conduct interrogations and establish secret prisons in contravention of the Geneva Convention."
"The information that we have gathered provides us with serious proof that Italy and Poland hosted secret [CIA] prisons where terrorism suspects were held," Fava said.
He said Romania had refused to testify at the request of the investigation committee.
Fava supported the Swiss senator, saying the Council of Europe should take a more proactive approach to investigating the human rights scandal.
"We have asked many European governments to cooperate with us [on the matter], but most of them refused to provide official assistance to our committee," Fava said. "If the Council of Europe issues a directive, the governments will have to cooperate with us."
Both Fava and Marty addressed the Parliament's Civil Liberties and Foreign Affairs Committee Tuesday.